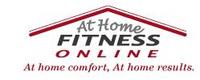 one of the nicest fitness store they have ever seen
Chandler, AZ (PRWEB) August 6, 2007
At Home Fitness recently created their online presence at AtHomeFitness.net, with a specialty online store for Arizona residents at At Home Fitness Arizona as well as a traditional online store for all 50 U.S. states at At Home Fitness Online.
At Home Fitness, LLC is a specialty fitness store that is locally owned and operated by Co-Owners Greg Feeder and Bryan Dorksen who moved to the valley in mid 2001 to open stores for the Denver, CO. based chain All About Fitness (AAF). Feeder and Dorksen managed stores in Tempe and Scottsdale for All About Fitness until June 04' when All About Fitness was bought by Fitness Holdings International, dba Busy Body Home Fitness.
The buy out paved the way for them to start their own venture. With nearly 25 years combined experience, Feeder and Dorksen saw that the Phoenix market needed a fitness dealer who could keep up with the sprawling Phoenix growth while maintaining a small company to keep in touch with the customers needs. Dorksen had worked for AAF since 1995. Feeder started with Exercise Equipment Center (EEC) in Seattle, WA in 1991. Both companies now owned by FHI (Busy Body). If the past is any indicator, At Home Fitness is preparing for great success. Before relocating to AZ, Dorksen previously managed AAF's #1 store in Highland Ranch, CO, While Feeder ran EEC's #1 volume store in Lynnwood, WA.
Highlights for the customers are a 30 day risk free guarantee that allows the customer to purchase equipment and use it in their own home a get a full equipment refund if it doesn't fit their needs. At Home Fitness is the exclusive Phoenix area retailer for the #1 rated Landice treadmills, #1 best buy Horizon Elite series of cardio equipment, and Universal Gym Equipment, who pioneered the multi-station gym in the 1950's. At Home Fitness also features SportsArt cardio equipment, and is exclusive with Pro Spot Fitness with their patented "grab and go" self spotting system that allows a person to perform free weight strength training exercises without the need for a spotter.
Since the November 04' opening of the Scottsdale store many people have commented that the store is "one of the nicest fitness store they have ever seen," Greg Feeder adds. "If people think our Scottsdale store is nice…wait until they see the Chandler store. In Scottsdale we had to work with what was there, we get to design the new store from wall to wall."
The Chandler store opened in 2006, with a large, open venue, perfect for displaying their premium line of fitness equipment.
###