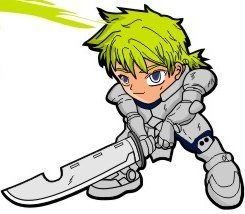 It's so easy to just send a message to another user on AnimeMine. I admire the way this was set up
Windsor, ON (PRWEB) August 1, 2007
Smarticlesmart Inc., owner of Smarticlesmart.com, today announced the launch of a new social network expressly for anime and manga fans, AnimeMine.com. The site has a unique blend of functions that will enable anime otakus (fans) to connect and share their interests, art, and music in the anime world.
Officially launched on 31 July of this year, visitors to AnimeMine.com will find an array of opportunities to connect up with others in the anime world. Users can create their own distinctive identity, take part in forums and chats, make their own blogs, and even upload personal videos and art. Fan videos, abound on YouTube, will find a home here as well.
For the many novice anime and manga artists striving for exposure, AnimeMine offers a one-of-a-kind chance to display their Fan Art through the Photo Gallery and throughout the site. They can upload their drawings, thus eliciting response from other members. Certainly they will gain some exposure for their work, and perhaps "be discovered".
Also offering news and reviews on anime music and games, AnimeMine is inviting anime fans of whatever level to participate in the forums and chatrooms to trade views and comments, criticisms, and knowledge. On their personal Contact page, registered users will be able to store contact information of friends newly made on the site, and get alerted to new messages via email. Privacy is important and the site will not allow others to contact registered users through their personal email. It is a popular way for Internet users the world over to connect but in a way that is safe for those who are concerned about their privacy.
There are over 300,000 people who enter "anime" into the most popular search engines, proving that this community is one of high volume and needs to be catered to in a big way. Smarticlesmart, Inc. wanted it to be possible for those in search of becoming a part of an anime community to find an upbeat and friendly site with plenty of ways to connect. With the additional advantage of full user-friendly customization controls they can be creative in making their identity on the site something special.
"It's so easy to just send a message to another user on AnimeMine. I admire the way this was set up," says one user. "The capability to get around on the site makes the whole experience very appealing. I've belonged to many different communities and so far, my time on AnimeMine.com has been one of the best as far as ease and great features."
It is free and simple to register and participate, and the anime fan will have unlimited access to his or her new friends, the ability to upload photos and videos, and can modify their profile at any time. Having launched the initial phase, the company plans new features as it expands, including an upcoming Fan Art contest. The Admin is always available to accept comments or hear of any problems on the site so improvements can be implemented.
"The possibilities are limitless," says the Admin. "I just want someplace special that manga and anime lovers can go and meet others, engage in conversation with them, and learn more about one of their favorite pastimes. The Internet is a universal communication medium, and should be used to connect others around the world. Our mission is to enable others to meet up with those of similar interests in a friendly and supportive environment. Shared knowledge and opinions are what make the world around us better -- and surely more fun."
About Smarticlemart, Inc.:
Smarticlesmart, Inc. was established as a service to provide information to the global market via its free article directory, but they wanted to expand their services to include making available community-meeting places for fans of varied interests. As a start, AnimeMine.com was set up to provide just that opportunity for the thousands of manga and anime fans and artists.
###