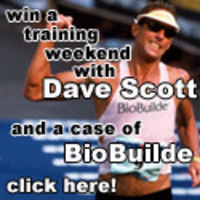 I've tried a lot of products in my career and few deliver what they promise. BioBuilde delivers!
Clearwater, FL (PRWEB) August 1, 2007
BioBuilde™, the unique amino acid pattern supplement for recovery, strength and endurance, and Dave Scott, renowned coach, 6-time Ironman World Champion and first inductee into the Ironman Hall Of Fame, jointly announce a drawing where one winner will receive a weekend of personalized triathlon training with coach Dave Scott in his hometown of Boulder, CO, and a case of BioBuilde. The drawing starts August 1 and runs through October 31, 2007.
This drawing is for anyone wanting to take on the challenge of racing in a triathlon: A newbie with questions about training, nutrition and equipment. Anyone not having his or her best triathlete season. Anyone racing in triathlons but having long recovery times and/or injuries. Anyone dreaming of crossing the finish line at Kona, the Ironman World Championship race. If you answered, "That's me!" to any of these categories, go to BioBuilde - Dave Scott Drawing and enter now.
Dave will work one on one with the winner to customize a program specifically for his or her needs. He will provide direction on any of these areas as desired by the winner: training, nutrition, biomechanics and technique, fueling for training and racing, sport-specific strengthening and stretching, injury prevention, motivation, mental strategies, equipment and more.
BioBuilde is an important aspect of Dave's nutrition regime. BioBuilde supplies all of the essential amino acids in a unique patented formula that optimizes the body's protein synthesis. BioBuilde is 100% absorbed and 99% utilized to build body proteins. No other source of protein or amino acids can compare. For endurance athletes this means shorter recovery times, faster protein recovery and more power, speed and endurance.
"I've tried a lot of products in my career and few deliver what they promise. BioBuilde delivers!" says Dave. "Within 24 hours of doing a hard workout, on BioBuilde, my body recovers and is ready for the next training day. This is invaluable for any athlete of any age. I highly recommend it."
Dave Scott's personal philosophy is that coaching people is more about being a teacher than a coach. Dave combines years of wisdom, wit and creativity to his passion for helping others. Visit Dave's website for more information.
The winner's package includes the personalized triathlete training program with Dave Scott, a case of BioBuilde, round trip airfare and 3 days/2 nights lodging at The Boulderado, Boulder, Colorado's landmark, four-star luxury hotel. The hotel provides timeless elegance, old world charm and new world services to its guests. The hotel is one block from Boulder's popular Pearl Street Mall for additional weekend entertainment.
The winner will be announced online on the Dave Scott web site at http://www.davescottinc.com and at http://www.bodyhealth.com/drawing on December 5, 2007. The winner will be contacted for scheduling of the 2008 personal training weekend with Dave.
Ways to enter the game include: signing up for the BioBuilde Newsletter featuring a column by Dave Scott at, purchases of BioBuilde or mailing in a 3 X 5 card to BioBuilde. No purchase is necessary to win.
To enter, for more information and rules go to http://www.bodyhealth.com/drawing or call 877-804-3258.
# # #