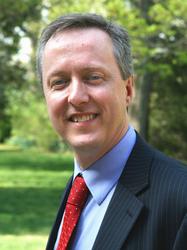 Dean Markham brings academic excellence, an ecumenical and an international perspective to Virginia Seminary
Alexandria, VA (PRWEB) August 2, 2007
Virginia Theological Seminary welcomed the Very Rev. Ian Markham who stepped into position yesterday as the Seminary's 14th Dean and President. Elected by a unanimous vote of the Board of Trustees, Markham succeeds the Very Reverend Martha J. Horne who served with distinction as Dean and President of the Seminary over the past thirteen years.
"Dean Markham brings academic excellence, an ecumenical and an international perspective to Virginia Seminary," said the Rt. Rev. Peter James Lee, bishop of the Diocese of Virginia and chairman of the board of trustees at VTS. "We are confident that he will lead us in fresh new ways while maintaining fidelity to the Seminary's mission emphasis."
Dr. Markham comes to Virginia Seminary from Hartford Seminary in Hartford, Connecticut, where he served as Dean and Professor of Theology and Ethics from 2001 to 2007. He also served as Director of the Doctor of Ministry program at Hartford Seminary from 2001 to 2005, and directed the seminary's accreditation self-study process from 2002 to 2003. Prior to serving as Dean of Hartford Seminary he was Foundation Dean and Liverpool Professor of Theology and Public Life at Liverpool Hope University in Liverpool, England, from 1998 to 2001, where he served as a member of the senior management team and strategic planning committee.
"It is an honor to be called to be the new Dean and President of Virginia Theological Seminary," said Dr. Markham, "I am humbled by the responsibility and the privilege. After the effective leadership of Dean Horne, I am looking forward to continuing her hard work of leading a community that forms effective clergy that bring the Good News of God in Christ to this troubled world."
As a theologian and an ethicist, Dr. Markham has taught courses at the graduate level in Christian theology and religious diversity, constructive theology, historical theology, worship, and spirituality. He is the author of numerous publications, including "Do Morals Matter: A Guide to Contemporary Religious Ethics" (Blackwell, 2007), "A Theology of Engagement" (Blackwell, 2003), "Truth and the Reality of God" (T&T Clark, 1998), and his latest book, "Understanding Christian Doctrine" (Blackwell) which will be released this fall. He has edited and contributed to many collections of essays, such as "Globalization, Ethics and Islam" (Ashgate, 2005) and "September 11: Religious Perspectives on the Causes and Consequences" (Oneworld, 2002). He was ordained to the diaconate in the Diocese of Connecticut on June 9, 2007.
Dr. Markham holds a Ph.D. in Christian Ethics from the University of Exeter, a M. Litt. in Philosophy and Ethics from the University of Cambridge, and a Bachelor of Divinity in Theology from the University of London. He and his wife Lesley have one son, Luke. Beginning August 1, 2007, Dr. Markham will write a daily column on the VTS Web site entitled "Dean's Commentary." You may access the Commentary by visiting http://www.vts.edu.
Founded in 1823, Virginia Theological Seminary is the largest of the 11 accredited seminaries of the Episcopal Church. The school prepares men and women for service in the Church worldwide, both as ordained and lay ministers, and offers a number of professional degree programs and diplomas. Currently, the Seminary represents more than 55 different dioceses and 7 different countries, for service in the Church.
Media Contact: Susan Shillinglaw
Tel: 703-461-1764
Email: sshillinglaw @ vts.edu
###