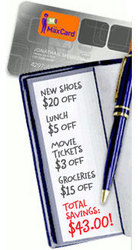 Portland, OR (PRWEB) August 2, 2007
The world's largest discount program, the new Max Card, gives customers one more reason to rejoice- they've thrown down the gauntlet in the effort to go green.
Max Card, the eco-friendly mega coupon book in a card, gives customers a one of a kind ongoing discount program that doesn't rely on a heavy paper coupon book. Max Card customers experience extensive discounts at hotels, car rentals, restaurants, auto repair shops, entertainment and more. Max Card has contracted with over 190,000 national and international retailers to provide discount card savings to customers. The unique discount card allows customers to use the card over and over at their favorite places, while enjoying all-new retailers at the same time.
With the new Max Card, you can enjoy discount card savings at your favorite retailers, without wasting paper. You research your savings online, instead of using a bulky coupon book. And that's an important distinction in the fight to cut down on negative environmental impacts and junk mail.
According to the Native Forest Council, approximately 40% of the solid mass that makes up our landfills is paper and paperboard waste. By the year 2010, paper is predicted to make up about 48% of landfill mass. And, 100 million trees are ground up each year to produce junk mail. That's why using products and working with companies like Max Card that support eco-friendly measures makes a real difference in the amount of paper thrown away each year.
Every second a slice of rainforest the size of a football field is destroyed, according to nature.org. That totals at least 86,400 football fields of rainforest each day, or over 31 million football fields of rainforest eliminated each year. And more than 56,000 square miles of natural forest are lost each year. With the new Max Card, there are no bulky paper coupon books, magazines or flyers to waste. The discount card is used with the website, http://www.NewMaxCard.com so customers can easily look online to find where they can use Max Card for discounts at local and national retailers.
For a limited time, a year's membership for the environmentally friendly Max Card is only $39.95; the card normally retails for $54.95. The annual membership includes full online access to all worldwide discounts and the personalized Max Card, too.
About Max Card:
The Max Card is a premier affinity and loyalty program provider of membership-based discounted travel, shopping, health, auto, entertainment, and consumer services. Through our products and cost effective private-labeled "Lifestyle" loyalty programs, we offer exceptional value, savings, convenience, and service to our members and partner organizations. We specialize in loyalty and reward programs to help you develop and "enhance customer relationships" that you'll benefit from today, and long into the future. Please visit us at http://www.NewMaxCard.com or call 1-888-MY-MAXCARD. Max Card. Smart. Easy. Fun. Savings.
###