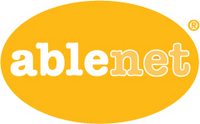 St. Paul, MN (PRWEB) August 8, 2007
Specifically designed for students with moderate to severe disabilities, the AbleNet Student Achievement Program offers three curricula, Play & Learn, a 12-month preschool curriculum that integrates motor skill development with communication, socialization and cognitive skills; MEville to WEville, the only early literacy and communication curriculum developed to meet the unique needs of elementary students with disabilities; and Star Reporter, a comprehensive special education curriculum for elementary and secondary students based on planning, producing and publishing a school or classroom newspaper. It should be noted that these curricula have already been chosen by some of the nation's largest school districts, including Los Angeles, New York City, Miami and Philadelphia.
The AbleNet Student Achievement Program is considered significant within the special education community because each curriculum is research-based and aligned with state and federal standards. Additionally, each curriculum under the AbleNet Student Achievement Program umbrella seamlessly integrates a broad array of assistive technologies into every lesson, allowing ALL students to participate in the same lesson at the same time for complete inclusion.
According to AbleNet CEO, Jen Thalhuber, "The days of matching one device to one student are over, it's simply too much for district budgets to bear. Imagine investing in a single assistive device to meet the needs of a single student only to have that student move out of your district. Now your investment is tucked away in a drawer or sitting on a shelf gathering dust. To help districts stretch tight budgets, we've developed a suit of classroom-ready technologies that not only support our curricula, but also provide districts with the assistive technologies they need to meet unique educational requirements of any student with any type of disability, day-after-day, year-after-year."
To round out the offering and provide assurances that special education teachers are implementing the AbleNet Student Achievement Program in a manner that allows every student to achieve their full potential, AbleNet offers ongoing professional development and district support in the form of curriculum and technology training, as well as assistance in collecting student progress data linked to individual goals and objectives. The program also includes, exclusive website access, online teacher surveys to gauge usage, annual administrative reviews, assistance in establishing a professional learning community, regularly scheduled webinars and podcasts, customized support to address specific issues within districts and new teacher orientation as needed.
All three elements of the AbleNet Student Achievement Program -- curricula, technology and ongoing support -- work in conjunction to deliver tangible outcomes that clearly demonstrate measurable student progress as required by state and federal mandates.
To further support school districts, the company has developed a financing plan that allows for purchasing the entire AbleNet Student Achievement Plan, including curricula, technology and support, under manageable terms.
For more information about the AbleNet Student Achievement Program contact Mary Kay Walch at 651-294-2218 or visit http://www.ablenetinc.com/asap.asp.
About AbleNet
AbleNet, Inc., offers a complete line of assistive technology products, including communication aids for non-verbal students; access aids, such as switches and wheelchair mounting devices for students who require physical supports; and classroom tools that can be used by any individual student or during group activities. The company is also recognized for developing research-based special education curricula that meet state and federal mandates.
Located in Roseville, Minnesota, AbleNet Inc., is an ESOP company that employs 35 people and sells its products through a network of distributors in 49 countries. AbleNet's products and programs have been used in tens of thousands of classrooms nationally for more than 20 years. For more information, visit http://www.ablenetinc.com.
###