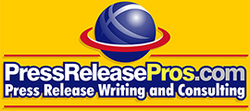 I think he's got what it takes to do really well.
Tampa, Fla. (PRWEB) August 2, 2007 -–
The news publicity agency, PressReleasePros.com, which has landed clients on Good Morning America and into the pages of top national magazines, today added a former New York City prosecutor to its list of publicity clients.
Michael Discioarro (pronounced: Di-shaw-row) is a former Bronx County, NY criminal prosecutor. He's now a criminal defense attorney in Manhattan and a professor at Hunter College teaching Criminal Law.
"Michael Discioarro has the qualities that news executives and booking agents look for in a legal expert," says Glenn Selig, of PressReleasePros.com. "He's smart, knows his stuff and has the experience to debate topical legal issues with the best attorneys around and I look forward to seeing him do it."
Selig is a former reporter, investigative reporter and anchor. He left a successful TV news career after 20 years to form his own publicity agency. He represents individuals and businesses seeking news publicity.
"My goal is to make Michael Discioarro a regular on local and cable news," says Selig. "I think he's got what it takes to do really well."
Discioarro is a graduate of Rutgers University. While with the Bronx District Attorney's office he was assigned to the Narcotics Bureau where he prosecuted drug crimes. He also has extensive experience prosecuting and defending drunk drivers.
About PressReleasePros.com
PressReleasePros.com is a news publicity agency that specializes in writing and distributing press releases and representing elite clients in their quest for news publicity. Glenn Selig, a former TV news reporter, investigative reporter and anchor, who left a successful career to start his own publicity agency, runs the company.
Contact: Glenn Selig, PressReleasePros.com
Email: info @ pressreleasepros.com
Phone: (813) 300-5454
Website: http://www.PressReleasePros.com
###