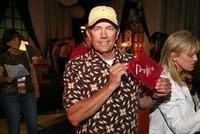 Beverly Hills, CA (PRWEB) August 3, 2007
Mario Magro Kiss For a Cause Foundation is holding an online auction of premiere special edition Crystal Le Coop handbags kissed and signed by some of the biggest names in country music at the recent 42nd Annual Academy of Country Music Awards. The auction will run from Aug. 3 - 17. All proceeds will benefit Mario Magro Kiss For A Cause Foundation in their efforts to provide assistance to orphanages and abandoned children throughout the world.
According to Mario Magro, these items are normally not for release. "The Crystal Le Coop handbag consists of two inserts which have both been kissed and signed by a celebrity. Our policy is to auction off one insert and preserve the other insert in the Kiss For a Cause Foundation (KFAC) archives. We have made an exception with the memorabilia from the ACMA Awards because this is a very special collection, with participation by very special people.
"Country music artists and their audience are known for their big hearts and outstanding generosity. Because of the tremendous demand for these collectibles and the support we have received from the country music community, we have decided to release the "second inserts" so that country music fans will have another opportunity to purchase items from this coveted and highly desirable collection," Magro notes.
"Country music fans have a very special connection with the artists and this was reflected in the success of our previous auction. On the flip side, many country artists come from humble backgrounds and when they hit it big, they give back a hundred fold. I'm very proud of the celebrities who have lent their support. The collection is magnificent, but their contribution towards the cause of helping orphaned and abandoned children is immeasurable!" Magro states.
Country music artists who participated in Kiss For a Cause include Martina McBride, George Strait, Vince Gill, Miranda Lambert, Rascal Flatts, Rodney Atkins, Little Big Town, The Wreckers, ZZ Top musical legend Billy Gibbons, Heartland, Emerson Drive, Josh Turner, Tracy Lawrence, Sara Evans, and many more. For a complete list of celebrity participation and photos please visit: http://kissforacause.org/celebrity_photos.html
Each collectible item has been numbered and authenticated by designer Mario Magro, whose signature is sealed inside, along with the celebrity's kiss and autograph. The kissed and signed crystal insert comes in a branded leather display case accompanied by a certificate of authenticity and certificate of photograph authenticity. Each collectable item includes an original Mario Magro Crystal Le Coop handbag.
Mario Magro Kiss For A Cause celebrity auction will be hosted by Charity Folks, the leading online marketplace for nonprofit fundraising, corporate-cause marketing campaigns and celebrity-driven charity events; a cross-market penetration that has made them the "go-to" in the field of ePhilanthropy. Among Charity Folks' special partners are hallmark nonprofits including Entertainment Industry Foundation and The World Wildlife Fund; A-list celebrities such as Alicia Keys and Morgan Freeman; and top-brand corporations, including Toyota and Esquire Magazine.
Mario Magro Kiss For A Cause Foundation (MMKFACF) is dedicated to the protection of orphaned, homeless and abandoned children. Internationally, there are 140,000,000 children suffering from extreme poverty. MMKFACF's mission is to house, feed and educate orphaned and abandoned children and provide work and training skills for a better future. For more information on the foundation please visit http://www.kissforacause.org
###