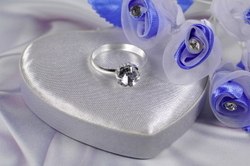 This is where the biggest growth in commerce is now
Los Angeles, CA (PRWEB) August 10, 2007
Say goodbye to browsing for engagement rings at the neighborhood jeweler's. In the future, shoppers may be ordering with the click of a mouse at an online jewelry store instead. At the cutting-edge of this trend. Brownsack Enterprises launches Exquisite-Engagement-Rings.com
Online jewelry shopping is becoming more mainstream, and this is having a profound effect on the industry. In the past, local jewelry stores competed only with other stores in the neighborhood. Now, the competition comes from jewelry warehouses around the world with significantly lower overhead costs.
Customers are flocking to online jewelers because of the prices, which are much lower than those at a traditional store.
Online stores can afford to charge less for a variety of reasons. One of these is the fact that they don't have high rental costs. A traditional store lives and dies by its location, and prime retail locations are expensive. But an online store can locate its warehouse anywhere in the world, without paying premium prices.
Online stores also save money on sales staffing, warehousing costs, security, and commercial décor -- and they pass the savings on to their customers. Even better, some customers won't be charged sales tax if they buy their diamond engagement ring from a retailer in another state. Overall, this means online stores can offer lower prices than traditional stores could dream of.
Customers also shop for jewelry online because of the selection. Online stores move their merchandise much faster than traditional stores do. A well optimized website for an online store may receive thousands of visitors per day, while a traditional store in a good location might receive only dozens. Online jewelry stores get new items in every day, and can offer a wider selection of merchandise than traditional stores can.
Imagine having the opportunity to create your own pink sapphire heart shaped engagement ring or a diamond engagement ring.. This you can do in the comfort of your home wearing your pajamas. Well online technology affords consumers exactly that. Whereas traditional stores offers precut and pre-packaged rings to select from.
But is online buying safe? Winston Cole, from http://www.exquisite-engagement-rings.com , assures customers that online buying is just as protected as traditional shopping--if not more so. "Customers get the merchandise, try it out, and if they don't like it they can exchange it or get a full refund--no questions asked," he says.
And as a professional in the field, he feels that online stores are the wave of the future. "This is where the biggest growth in commerce is now," he says. "Everyday more and more people are getting into it."
More and more businesses are, too. Big jewelry companies like De Beers, Kay Jewelers, and Zale's have launched online jewelry stores where customers can buy engagement rings, necklaces, earrings, and more.
But independent stores are still slow to adapt. And it's cost them. According to Jewelers' Board of Trade statistics, the number of small independent stores has decreased by 16% in the past ten years.
Perhaps one of the biggest reasons for the decline is that younger generations care more about affordability and convenience than they do about tradition. They're also much more comfortable buying items--even big-ticket items such as diamond engagement rings--online.
All in all, this adds up to bleak prospects for the neighborhood jewelry store. But the low prices, convenience, and wide selection found at online jewelry stores are nothing but good news for consumers.
Online shopping is also making high-end diamond engagement rings and other expensive items more widely accessible to buyers. And if more people develop a taste for beautiful jewelry, that's good news for the industry as a whole. In the future, independent retailers who do well will probably owe much of their success to an online presence.
Exquisite-Engagement-Rings.com is a jewelry retailer that offers diamond engagement rings in a wide variety of styles, all available through an online jewelry store.
###