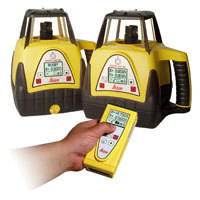 We have been pleased with the increases we are seeing in the traffic through our online store. It's the easiest way for those looking to expedite their buying process
Norcross, GA (PRWEB) August 3, 2007
Leica Geosystems is offering customers another chance to benefit from its online store enhancement with a special August promotion for the Leica Rugby grade lasers.
Offered until August 31, 2007, customers can get $200 off all Rugby 300-SG single grade laser packages, or $300 off all Rugby 400-DG dual grade packages.
According to Reynolds Boyd, Leica Geosystems' manager of the online store, this promotion is aimed at the contractors' market--anyone requiring laser levels will benefit from the savings.
"We have been pleased with the increases we are seeing in the traffic through our online store. It's the easiest way for those looking to expedite their buying process," comments Boyd. "Our unique distributor participation program ensures that the online customers will have service and support after the sale, regardless as to where they make their purchase."
Visit Leica Geosystems' online store and take advantage of this August promotion at: http://www.buy.leica-geosystems.com.
Leica Geosystems - When It Has to be Right
With close to 200 years of pioneering solutions to measure the world, Leica Geosystems products and services are trusted by professionals worldwide to help them capture, analyze, and present spatial information. Leica Geosystems is best known for its broad array of products that capture accurately, model quickly, analyze easily, and visualize and present spatial information.
Those who use Leica products every day trust them for their dependability, the value they deliver, and the superior customer support. Based in Heerbrugg, Switzerland, Leica Geosystems is a global company with tens of thousands of customers supported by more than 2,400 employees in 22 countries and hundreds of partners located in more than 120 countries around the world. Leica Geosystems is part of the Hexagon Group, Sweden.
For further information, please contact:
Andre Ribeiro
Director of Marketing
Leica Geosystems Inc.
Atlanta, GA 30092
United States
Phone: + (770) 326-9557
Web Site: http://www.leica-geosystems.us
# # #