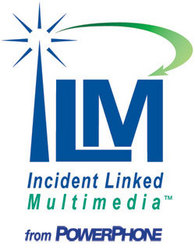 There is a perception that text messages and camera phone photos being sent to 9-1-1 is a dream of the future
Baltimore (PRWEB) August 6, 2007
The software designed to help 9-1-1 agencies get camera phone images from citizens' cell phones has now been upgraded to help them even more.
PowerPhone, a leader in 9-1-1 training and technology, will introduce the latest version of its Incident Linked Multimedia™ (ILM) software at the 73rd Annual Conference of the Association of Public-Safety Communications Officials (APCO) in Baltimore on August 6, 2007. The latest version of ILM has been updated to allow public safety agencies to receive both solicited and unsolicited multimedia messages from citizens' cell phones -- including text messages, photos and videos.
The first version of ILM was introduced at last year's APCO Conference in Orlando, Florida, and was designed solely to accept solicited messages -- those which a 9-1-1 operator would specifically request from a caller. Now, ILM allows citizens to send unsolicited multimedia messages to the 9-1-1 center -- which could be essential in cases where a citizen cannot call 9-1-1.
"PowerPhone developed the latest version of ILM in response to the needs of 9-1-1 centers we've talked to around the country," said Chris Salafia, president & CEO of PowerPhone. "Everyone we talked to recognized the potential of unsolicited messages in improving the safety of citizens and opening a new frontier for public safety."
ILM also provides a secure gateway for public safety agencies to receive multimedia messages which helps reduce spam and malicious messages. ILM is designed to take advantage of existing technology that 9-1-1 centers have available right now -- so agencies don't have to wait for proposed IP-based 9-1-1 systems to be built to use ILM technology.
"There is a perception that text messages and camera phone photos being sent to 9-1-1 is a dream of the future," said Salafia. "That's simply not true. Agencies can use their existing cellular and IP networks to deploy ILM today."
For more information on ILM, visit http://www.powerphone.com.
About PowerPhone
Based in Madison, Connecticut, PowerPhone, Inc. (http://www.powerphone.com) training and technology. Founded in 1984, the company has trained more than 130,000 public safety professionals representing all 50 U.S. states and more than a dozen foreign countries. The creator of Computer Aided Call Handling® (CACH) software and Incident Linked Multimedia™ (ILM) systems, PowerPhone offers a wide range of products and services designed to empower public safety professionals to best manage calls for service.
Contact: Greg Sheehan
Office: 203.245.8911 ext. 312
Cell: 203.464.2237
E-mail: greg @ powerphone.com
# # #