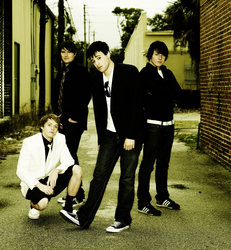 RADIO RESET is radio ready with a gleaming pop-rock sound driven by the crystalline tenor (and song writing) of Andrew Arthur.
Clearwater, FL (PRWEB) August 4, 2007
Radio Reset, perhaps the best kept Indie rock secret in the Tampa Bay, Florida, area will perform live for one show only at The Cutting Room in New York City, Tuesday, August 14th at 9:30 p.m.
Radio Reset, formed in 2006, in Clearwater, FL, are Andrew Arthur, lead vocals and co-writer; Andy Pardue, guitar, background vocals and co-writer; Mark Allen, bass; Johnny Coryn, drums; and Jake Flanders, background vocals, guitar and synths.
The band's upcoming performance in the Big Apple's famed Cutting Room marks their first appearance in New York City and they are ready.
In 2006 Radio Reset took first place in the Southeast region of the US Global Battle of The Bands and competed in the National finals at the esteemed Key Club as well at the Viper Room in Los Angeles. They have continued to perform to both small and large audiences at select dates in the Tampa/Clearwater area as well as other venues across the United States that include "House of Blues," in Las Vegas and the "The Wheeler Opera House" in Aspen, Colorado. In addition Radio Reset has also opened for various national and international recording artists.
The band's sound has proven appealing to all ages. Music critic Eric Snider says,"RADIO RESET is radio ready with a gleaming pop-rock sound driven by the crystalline tenor (and song writing) of Andrew Arthur."
With their debut EP release, "This Is Not A Test," songwriting team Andrew Arthur and Andy Pardue continue working in the studio on a daily basis, writing songs faster than they can record them. Right from the stellar opening of Radio Reset's EP you can tell that this band is about an off the scale, unsullied acceleration. That is the focus of Radio Reset, creating a sonic force that is a blend of each member's musical influences and style. From U2 to the Beatles to Jimmy Eat World, Radio Reset touches an expanse of musical decades without exploiting them.
Artists such as Norah Jones, Sheryl Crow, Gwyneth Paltrow, Kid Rock, Vanessa Carlton, Sandra Bernhard, Mini-Kiss and many more have performed at The Cutting Room. Other famous guests have included David Bowie, Ralph Fiennes, Ethan Hawke, Chris Rock, Kelsey Grammer, Steve Buscemi, Edie Falco, Russell Crowe and Toby McGuire. Radio Reset is in good company as they make their debut at the storied club.
Co-owners of The Cutting Room, Chris Noth (Sex and the City, Law & Order) and Berklee College of Music alumnus Steve Walter have created an intimate space for established performers and a hospitable environment for new music of all varieties. The Cutting Room is centrally located at 19 West 24th Street between Broadway and 6th Avenue on the north side of the street.
For a preview of RADIO RESET go to:
http://app.talkfusion.com/talkFusionStudio/view.asp?25446_1263
# # #