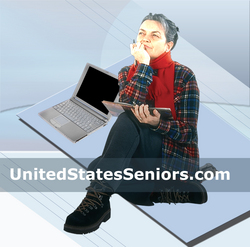 We hope to change that with our web sites. The exclusive site sponsors will have an enormous advantage over their competition when it comes to establishing relationships and long term loyalty amongst this growing and affluent demographic.
Olympia, WA (PRWEB) August 6, 2007
Five years in development and testing, The Toma Group, an Olympia, WA-based company, has just released its flagship product, Seniors Connected, a nationwide network of interconnected web sites, designed specifically for the over 55 demographic. Along with having a unique arena for the exchange and communication of information at the national, state, county and city levels, seniors can research subjects encompassing virtually every interest and concern they may have.
In addition, there is a calendar of events, a private section for seniors to organize their own personal lives, a section for organizations to establish their own presence and dozens of additional features. Along with the national site, http://www.UnitedStatesSeniors.com, this network will encompass over 2,000 towns, cities, counties and states when fully deployed over the next 12-18 months.
For every city, the corresponding county, state and then national sites will draw from the daily changing content and interactions at the local level. The public can learn more about the features and functions of these sites by going to http://www.SeniorsConnected.com. Exclusive city-level sponsorship opportunities are provided for one professional from the list of Top 20 research categories. The additional 19 categories are available for co-sponsorship. The Top 20 categories encompass Automotive, Chiropractic, Dining/Wine, Estate Planning, Financial, Financial Planning, Home & Garden, Home Decorating, Home Improvement, Insurance, Legal/Law, Massage Therapy, Medical, Mortgage Services, Physical Therapy, Real Estate, Retirement Planning, RV's, Senior Living and Travel & Recreation.
Sponsors and co-sponsors alike are provided with a wide range of tools with which to provide information to the 55+ age group. These range from document storage and display, a personal calendar of events, discussion forums, announcements, a blog, photo displays, links to their web sites and more. Numerous additional opportunities are found throughout most sections of the sites to develop lasting, long-term relationships amongst this fastest growing, most affluent and mobile demographic. Potential sponsors and co-sponsors can learn more about the opportunities provided by going to http://www.YourSeniorsConnected.com.
Pointing to the increasingly important role and buying power of seniors and their communities, Doug Burger of The Toma Group explains, "We found this group to be left out when it comes to a truly representative web site developed especially for them. This market is emerging as the most important demographic in our economy. The spending habits of seniors ranks them at the very top of the groups professionals should be creating relationships and Top of Mind Awareness with." In addition, Burger goes on to explain, "They're on the go! Approximately 21% of seniors expect to move to an entirely new part of the country. Real estate professionals and related industries need to develop Top of Mind Awareness with them!"
One of many special features called 'My Home Central' makes these products come alive", says William Burgess, co-owner in charge of site development. "The registered user can set up and manage home inventories, important documents, photos, calendars, family and friends and so on." Discussions, events and forums are open to the public but only registered users can post information and engage in one-on-one communication. All registered user activities are provided at no charge. Recommended vendors are posted by the sponsor, who can highlight and support local businesses that do a good job. Vendors can also provide coupons and discounts right on the sites.
Orbganizations can almost run their entire operation right within a local Seniors Connected web site. They are provided capabilities to form committees, blogs, a directory of members, document storage and display, an event calendar, a facilities and rentals section, photo storage and display, a programs & services module, forums, announcements, a volunteering section and a rules and regulations area. This is all provided free of charge.
The Real Estate section is especially dynamic and helpful, and can direct users to targeted real estate professionals whose expertise in real estate and working with Seniors can guide them in the complicated areas of buying, selling and retirement planning. This section is specifically designed for real estate client relationship-building, creating an opportunity for agents, teams, brokers and title and escrow companies to sponsor and develop name awareness in cities across the country. For real estate sponsors, The Toma Group will be mainly focused on agents who hold the Seniors Real Estate Specialist, SRES, designation to sponsor their local sites. "It's amazing that we now have the capability of harnessing the power of the Internet to really communicate in the areas we're most familiar with, but traditional farming methods are still the norm," says Mr. Burger. "We hope to change that with our web sites. The exclusive site sponsors will have an enormous advantage over their competition when it comes to establishing relationships and long term loyalty amongst this growing and affluent demographic."
To find out more about why it's important to build relationships with seniors, The Toma Group has provided a short video presentation at http://www.MrToma.com (takes about two minutes to load). To secure a sponsorship or co-sponsorship, professionals in the Top 20 categories mentioned above, can go to http://www.yourseniorsconnected.com/associates/GetYourSite.htm.
# # #