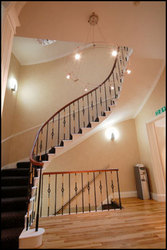 The new office in Albany Street, central Edinburgh is just 2 minutes walk from Princes Street and Waverley Station and so customers wishing to see a live demonstration or hire a video conferencing facility for an hour or so, are now better served than ever before
London (PRWEB) August 7, 2007
VideoCentric, one of the UK's leading videoconferencing integrators has announced a new Edinburgh address for its expansion of activities in Scotland. The move will add further presence for the top manufacturers, Polycom and Tandberg and give extra weight to other manufacturers such as Lifesize, RADVision, Codian, Emblaze-VCON, Aethra and Sony through the services VideoCentric is now able to supply across the whole of the UK.
Founded in 2001, VideoCentric's video conferencing roots go back to the early 1980s when its directors were involved in VC codec design and development. VideoCentric has long enjoyed early access to new products as they emerge to the market and HD systems are no exception. Virtually all HDVC systems are currently demonstrated by VideoCentric to end users, and relationships with regional resellers have also added to their successful expansion over the last 6 years.
"The new office in Albany Street, central Edinburgh is just 2 minutes walk from Princes Street and Waverley Station and so customers wishing to see a live demonstration or hire a video conferencing facility for an hour or so, are now better served than ever before," said David Shimell, Sales Director for VideoCentric. He added, "The new office is beautifully appointed and its re-fitted boardroom is suitable for top executives to hire with or without the use of videoconferencing system and plasma screen. Our presence in Scotland is an indication of our commitment and dedication to the VC market and to our partners who are looking for more presence in the legal, financial, insurance and leisure sectors, but we will also be focusing on our traditional markets in education and healthcare."
The Edinburgh office will be linked by high speed Internet to VideoCentric's Thames Valley office, which already has all the latest products available for remote demonstration. Existing customers with older systems will also be able to check interoperability by dialing into VideoCentric's 24 hour test facility. The North-South link gives the Edinburgh office IP access to ISDN breakout services, 3G, mobile, desktop and a wide range of Multi-Point features through centralised network servers which represents the way in which most large organisations are now setting up their videoconferencing architecture.
About VideoCentric
VideoCentric is an established video network integrator using world-class video-over-IP infrastructure products (e.g. multipoint bridging, ISDN gateways, firewall traversal, streaming servers, networked recorders) and endpoint systems from each of the leading manufacturers. For sites not already served by adequate IP bandwidth, VideoCentric supplies ADSL-Max, SDSL or leased line IP connections or will host bandwidth-hungry applications on behalf of a customer, so that existing data services and bandwidth remain unaffected. To compliment a full range of VC systems, VideoCentric also supplies and installs plasma, LCD, projector and SMARTBoard screens and has an experienced installation and training team that spans the whole of England, Scotland and Wales. For more details on our video conferencing solutions go to http://www.videocentric.co.uk/videoconferencing/videoconferencing.shtml
###