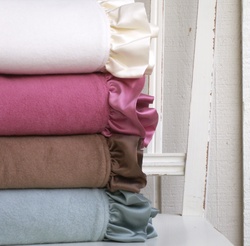 All of our blankets are machine washable and dryable because convenience is just as important as health and style
El Dorado Hills, CA (PRWEB) August 10, 2007
Robbie Mahlman and Susan Doris announce the launch of Robbie Adrian Inc. and its new line of luxury organic baby blankets. "We talked with many parents who wanted natural products for their children that were also stylish and colorful. That inspired us to create a line of luxury organic baby blankets, offering earth friendly elegance for discerning parents and their babies," explains Robbie Mahlman the company's President and CEO.
The new line of Robbie Adrian luxury organic blankets is made in the US, with 100% certified organic, USA grown cotton fleece and velour trimmed with natural silk in seven rich matching hues. "All of our blankets are machine washable and dryable because convenience is just as important as health and style," smiles Mahlman.
Demand for organic cotton products has risen significantly in the last several years. The Organic Trade Association estimates sales of non-food organic products grew 27.5%, to $938 million in U.S. sales in 2006, giving Mahlman and Doris reason to be optimistic. Until now, celebrities and other discerning shoppers looking for the latest in trendy baby blankets had no alternative to blankets made from less eco friendly sources. "Many of the baby blankets now on the market are made from fabrics like polyester, which is a petroleum based fiber, or conventionally grown cotton, which is grown with harmful chemicals," says Doris, who handles Sales and Marketing for the growing company. "Part of our goal with Robbie Adrian luxury organics, is to help educate people about the impact on the environment from purchasing different fibers, and how they can really make a difference with what they buy."
So what exactly is organic cotton and why is it better for the environment? According to the Sustainable Cotton Project, organic cotton is cotton grown without harmful pesticides or chemical additives to fertilizer, relying instead on methods with less ecological impact. This contrasts with conventionally grown cotton, where up to 1/3 of a pound of chemicals is used to produce one cotton T-shirt. If the rich colors and silk ruffles don't sway you to buy organic, consider that seven of the top 15 pesticides used on cotton crops are either listed as "probable" or "known" carcinogens by the Environmental Protection Agency.
Robbie Adrian luxury organics joins a growing list of designer labels offering organic lines, including Edun, launched by singer Bono of U2, his wife Ali Hewson and designer Rogan Gregory, Stella McCartney and Jimmy Choo. Barneys New York announced earlier this year, it is planning an environmentally themed Christmas promotion with Rudolph the Recycled Reindeer as a mascot. Other upscale retailers offering organic lines include Saks Fifth Avenue, Bloomingdale's and Neiman Marcus.
"Offering parents natural elegance for their baby and the ability to help the environment with each purchase is one of our many inspirations for launching Robbie Adrian luxury organics," says Mahlman. "Our blankets make green gorgeous!"
Robbie Adrian luxury organic blankets are available for purchase on-line at http://www.robbieadrian.com, or through select stores and boutiques.
Press Information:
Susan Doris
(916) 798-2248
###