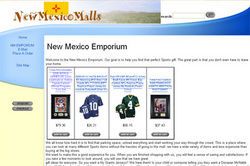 Our motivation behind New Mexico Emporium is to make shopping easy and convenient for sports enthusiasts without having to sacrifice great selection and quality
Albuquerque, NM (PRWEB) August 7, 2007
New Mexico Emporium, a collectibles, sports memorabilia and athletic wear retailer, has launched its e-commerce store, giving online shoppers access to greater choices and lower prices from the comforts of their own computer.
Sports jerseys, NFL football helmets and one-of-a-kind collectibles are the name of the game at New Mexico Emporium. Its unmatched product selection spans nearly every sport genre including football, baseball, hockey and more. Sports apparel is also available for the whole family in adult and kid sizes.
The company is determined to make the shopping experience just as pleasurable as wearing or displaying the merchandise itself. Its staff works hard to ensure their customers will receive excellent savings and service when shopping with New Mexico Emporium.
"Our motivation behind New Mexico Emporium is to make shopping easy and convenient for sports enthusiasts without having to sacrifice great selection and quality," says Owner Scott Coll. "That's why we offer products for pro teams in nearly every sport at prices less than what you might see at the mall--all available to you through our online store."
With New Mexico Emporium's extensive lineup of NFL football helmets, collectibles, sports memorabilia and more, their products not only make great additions to the wardrobe or game room décor, but they also make great gifts as well. Site visitors can choose from sports' most well-known and talented players such as Eli Manning, Brett Favre or Donavan McNabb to gloss the back of their jerseys. They can even find ornamental gifts such as team-branded cufflinks for groomsmen sports gifts or hooded NHL sweatshirts for the perfect Christmas gifts for sports fans.
"What's great about our products is their ability to appeal to every sports fanatic. No matter what team you're rooting for, we've got a whole collection of sports gifts for you to browse through," says Coll. "What's more, you can get it at a fraction of the price with New Mexico Emporium. We also do special orders of signed items."
To check out the selection of NFL football helmets and other sports memorabilia, visit NewMexicoEmporium.com.
About New Mexico Emporium:
New Mexico Emporium is an online haven of sports memorabilia for sports fans abroad. Established in 2007 by Owner Scott Coll, the company is dedicated to bringing the best in price and selection to its customers. The store provides numerous collectibles and apparel for sports gifts such as jerseys, photo mints, pro football helmets and much more. For additional information, please visit NewMexicoEmporium.com.
###