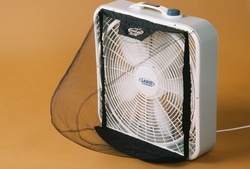 The SBA recommended that we hide www.skeeterbag.com [Skeeterbag]™ in a fancy plastic shell and charge $500 for it, but we went the other way
Micanopy, FL (PRWEB) August 9, 2007
Skeeterbag™ trap makers Simonton Farms Inc. rediscover their product this season with a little help from veterinarian and customer Dr. Michelle Reller.
With special thanks to Reller, Simonton Farms Inc. reintroduces, Skeeterbag™ as the 2007 "green" alternative to mosquito control. Skeeterbag™ is a simple kit that converts any ordinary box fan into a mosquito vacuum trap for private and commercial use.
"I felt that Simonton Farms Inc. was missing the boat by not mentioning how (green) environmentally friendly Skeeterbag™ is. Everybody is looking for green alternatives these days," Reller said. "As an equine vet I recommend insect control to reduce disease transmission and stress on the animals. Before I started using Skeeterbag™ on my farm the only options I could recommend for mosquito control were limited to chemical systems."
So, if there are no chemicals, what does it use for bait? "Female mosquitoes spend most of their little lives swarming around outdoor pets, livestock, and people gathering blood for breeding. Every mosquito in range will search around doorways and windows, hang around porches and lights, and camp out around pets and livestock until they have enough blood to carry on the breeding cycle. The trick is not to add more bait to the property, but to add traps to the bait that is already there," said inventor Sidney Louis McCarty.
McCarty was in a panic after trying every mosquito product he could get his hands on to solve the problem he was having with mosquitoes terrorizing his animals; and he was determined to solve it the "McCarty Way"-- with as little as possible. What he came up with was not only as "Green" as you can get without adding solar panels, it was also the most effective trap he had ever seen.
In its first night of operation Skeeterbag™ caught more than 2,300 mosquitoes, half of which where still alive and noticeably upset at 7 a.m., but dead by 11 a.m. from dehydration. "Out on the porch for the first time since mosquito season, started I realized that I had stumbled onto something that could make a real difference for a lot people," McCarty said.
McCarty called in accomplished inventor, Mark Eugene Valentine, to test and develop his idea for market. After four years of testing, Valentine reports that traps set next to animals confined to sleeping quarters, traps outside open windows or screen doors and traps set next to lights consistently netted the most mosquitoes. "Traps next to lights caught a lot of other bugs too, like moths, love bugs, termites and black flies in addition to the mosquitoes," Valentine said.
"The SBA recommended that we hide Skeeterbag™ in a fancy plastic shell and charge $500 for it, but we went the other way," Valentine said. "We offer a stripped down, all green, only what you need solution to what used to be an expensive problem. Skeeterbag™ has no replacements to buy, nothing to send back for repairs, and nothing to put in our landfills later. A box fan costs $2.11 per month to run 24/7 and is easy work for a generator to run.
"Skeeterbag™ is not only green," Valentine said, "it is also the most effective trap on the market in terms of the number of mosquitoes it catches. When our neighbors began using Skeeterbag™ on their farm, our mosquito problem got better even faster. We designed and priced it so that could happen for people all over the country."
For more information, visit http://www.skeeterbag.com.
# # #