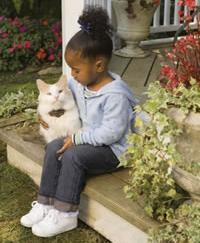 The cat fence goes a long way to keeping your cat safe at home
Clinton, Tenn. (PRWEB) August 7, 2007
Millions of unwanted animals end up in shelters every year, and at least half of them are euthanized because the shelters are unable to find new homes for them. Although many of the animals are unwanted, some are family pets who have run away.
Only 2-5 percent of cats in shelters are reclaimed by their owners, and most of those have some form of identification. Identification is good, but people still want to prevent their pets from running away or getting lost in the first place. SecurePets.com introduces the PetSafe Deluxe In-Ground Cat Fence, which will help to ease the worries of cat owners everywhere.
"There are many in-ground fences for dogs, but now there's one for cats as well," said Chuck Yost of SecurePets.com. "The PetSafe Deluxe In-Ground Cat Fence can help keep cats from running away, which keeps owners from worrying about them."
The PetSafe Deluxe In-Ground Cat Fence has been proven safe and effective for all cats over 6 pounds and more than 6 months old. It can power up to 25 acres of wire, and can be run underground or attached to an existing fence line. When cats approach it, they get a warning beep from their collar. If they try to cross the wire, they get a mild static correction delivered until they return to the designated area. The collar has four levels of static correction and one beep-only level.
"The cat fence goes a long way to keeping your cat safe at home," said Yost. "But that certainly doesn't mean you should forego other pet safety methods completely. Make sure your cat has a tag with its information on it, or microchip it, or even get it tattooed. The last thing you want is for your pet to end up as a shelter statistic."
The PetSafe Deluxe In-Ground Cat Fence can go a long way to reassuring cat owners that their pets will stay safely in the yard and out of the road. For more information about it, or to see the other pet containment products that SecurePets offers, visit SecurePets.com.
About SecurePets
SecurePets was founded in 1996 as "Bolts & Bytes." They've been providing quality products for pets for more than 10 years, and they use many of the products in their own homes. Their goals are:
•To sell only high-quality, safe products for pets.
•To go the extra mile in satisfying our customers.
•To provide superior technical service for both installation and troubleshooting problems.
•To deal with our customers in a fair and ethical manner in every way.
•To be honest with our customers, even when it is not financially advantageous to do so.
•To treat our customers with respect.
Press release marketing provided by Xeal Precision Marketing
###