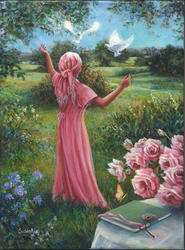 He said 'you want to feel the hope when you're facing something life threatening,'
Corona, CA (PRWEB) August 7, 2007
World renowned artist Susan Rios, is using her talents to benefit women battling breast cancer. Rios, whose works adorn the walls of the White House and homes of celebrities such as Jane Seymour, Priscilla Presley and Andre Agassi, has created a piece called "Feel the Hope" with 100% profits from the sale of prints going to breast cancer diagnostic care and research. A 6-by-8-inch personalized and signed print sells for $49. For more information or to order a print, go to http://www.feelthehope.com.
"The painting features a young woman wearing a pink scarf with outstretched arms looking out at a green pasture. Doves fly overhead, symbolizing peace. On a table sits a vase of pink roses and a journal with a dangling key. A butterfly, which hovers above the journal, symbolizes transformation" as described by Rios.
Susan Rios' former husband named the painting, according to the artist, adding that he is dying of colon cancer. "He said 'you want to feel the hope when you're facing something life threatening,' " according to Rios.
Rios will sign the first 1,000 copies of the print and personalize the journal on the painting with up to 7 characters. However, she will provide an unlimited number of prints for sale to benefit the care and research of breast cancer. The prints are available for purchase at http://www.feelthehope.com.
"Feel the Hope" was created to celebrate women, "her life, her world and where she is gloriously grateful and free" said artist Susan Rios. 100% of the profits go directly breast cancer detection, diagnostic care, and research through the support of the Foundation for Community and Family Health based in Corona, CA.
The Foundation offers a Breast Health Detection Program providing no cost mammograms to women under 40 and outreach through educational programs for men and women. They are also contributing part of the profits to National Breast Cancer Research.
Money for The Foundation's Breast Health Detection Program is primarily raised through the "Walk for Health," an annual breast cancer walk in Corona, CA ( near Los Angeles) that attracted 5000 participants in 2006 and expect 7500 walkers on September 29, 2007 for this years event. The Walk for Health is a 3.3 mile run/walk around Grand Boulevard through the heart of Corona. Susan Rios will attend the event to personally sign the pieces purchased and to meet the people that are supporting the cure, and needing the support. For more information about the Walk for Health visit http://www.OurLocalFight.org
About Susan Rios
A professional artist for more than 25 years, Susan creates familiar scenes that exude peace, harmony and romance. Images of cozy interiors, lush floral gardens and soothing seashores uplift the senses and the spirit.. She is an active participant in causes that touch her heart, Susan devotedly supports charities and nationwide organizations, including the Los Angeles Children's Hospital, Saddleback Community Outreach, Taylor Family Foundation, Make a Wish Foundation and The Ronald McDonald House. Over the last quarter-century, Susan's work has attracted the attention of many noted collectors and celebrities who have added her paintings to their private collection such as Jane Seymour, Brittany Spears, Priscilla Presley, Phyllis George, Ann Gillian, Sandy Duncan, Shelley Fabres, Mr. & Mrs. Brian Wilson and Mr. & Mrs. Walter Mathau. http://www.susanriosinc.com
About the Foundation
Based in Corona, CA the Foundations mission is to to generate resources and financial assets in order to fund health-related services and enhance the health and well-being of children and families. Programs the the Foundation support include an in-house Children's Center where they provide innovative outreach programs that bring education and screenings to children in area schools, no cost childhood vaccinations, positive youth development, mom support groups, breast feeding support, safe baby-sitting classes with American Heart CPR certification, prepared child birth and parenting classes. Other programs include informational health seminars including senior care, diabetes monitoring, breast care prevention and awareness. The Foundation for Community and Family Health provides important resources to help our families stay healthy and informed. http://www.communityandfamily.org
# # #