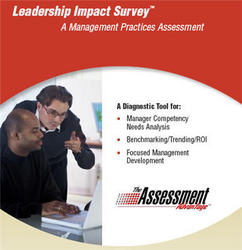 People Leave Managers…Not Organizations
Seattle, WA (PRWEB) August 7, 2007
Impact Achievement Group, a leadership development and training consulting firm, recently celebrated its four-year anniversary with profitability for 16 quarters and running.
Impact Achievement Group has also doubled its client base and revenue in the last year, working with mid-size to large companies nationwide. The company is one of the strongest growing in the leadership development market, according to company chief executive officer Lee Klepinger.
"We've built the company by providing results based solutions, value pricing, and by maintaining our accounts with a relationship focus," said Klepinger. "This builds real loyalty. Our customers appreciate our flexibility, our story-based method, and a practical versus academic approach to our training, products, and services."
With leadership development at its core, Impact Achievement Group provides consulting and training to impact various areas of an organization. Their workshops, processes and tools help impact performance management, customer loyalty, assessment, selection and succession planning, as well as coaching and professional development.
The Cobalt Group, with headquarters in Seattle, has used Impact Achievement Group training services for more than two years. Most recently its IntegraLink Division based in Columbus, Ohio, implemented the Impact Achievement Group's new Leadership Impact Survey™, an assessment tool that evaluates competencies that effective leaders exhibit in managing day-to-day employee performance.
The multinational automotive marketing services company was more than pleased with the results, according to Julia Pizzi, vice president, human resources.
"Our IntegraLink management team took the results of the assessment and have applied them with phenomenal results," said Pizzi. "The individual reports from the assessment were at such a detailed level that they allowed us to create individual development plans. The entire team has been motivated by the improved leadership competence."
Pizzi added that IntegraLink is a very profitable business unit, and the general manager and EVP see that success tied back to individual leaders and their development.
Impact Achievement Group works with companies such as Western Health Advantage, The Boeing Company, Rushforth Taylor Construction, The Kroger Company, Volvo Penta of the Americas, Farmers Insurance, and National Institute of Health.
"What's most encouraging is our customer base represents a cross section of industries and markets that are increasingly aware of the role leaders play in motivating excellent performance that affect the bottom line," added Impact Achievement's Klepinger. "We only see that awareness growing across all types of organizations that are focused on results."
Impact Achievement Group is a training and performance management consulting company that provides assessments, coaching, story-based interactive workshops, and simulations for managers at all levels of the organization. Impact Achievement Group works with organizations, large and small, worldwide; providing tailored services and interactive learning experiences that dramatically improve leadership and management competency for bottom line results. Company experts and co-authors of "People Leave Managers…Not Organizations", Rick Tate and Dr. Julie White are internationally recognized authorities in leadership development, human performance, service quality and communications.
Contact:
Lee Klepinger
888/248-5553
leek(at)impactachievement.com
This press release was distributed through eMediawire by Human Resources Marketer (HR Marketer: http://www.HRmarketer.com) on behalf of the company listed above.
###