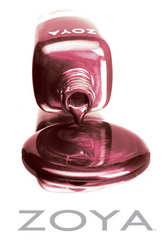 Whatever the fashion vibe this Fall, Zoya has the healthy color nail look to suit it with it's new Uptown and Downtown collections
Cleveland, OH (PRWEB) August 8, 2007
Zoya professional nail lacquer presents two new collections for Fall 2007 - Uptown and Downtown. Make a style statement: choose Uptown containing 6 updated, stylish berries or Downtown with it's 6 urban, electric shades, including this years hot hues, gunmetal gray (Freja) and eggplant (Lael). All in the world's best selling, healthy, natural nail Zoya formula.
"Whatever the fashion vibe this Fall, Zoya has the healthy color nail look to suit it with it's new Uptown and Downtown collections". Chic and sophisticated? The Uptown collection showcases the rich colors of season in 6 updated stylish, classic berries. Urban and trendy? The 6 electric shades in the limited edition Downtown collection are sure to please with edgy dark undertones and rich, hyper hues.
Uptown colors: Tess (ZP 420) - rose metallic, Paige (ZP 421) - mauve cream, Coco (ZP 422) - browned mauve cream, Quinn(ZP 423) - pomagranate cream, Andi (ZP 424) - scarlet cream, Chelsea (ZP 425) - ruby metallic.
Limited Edition Downtown colors: Freja (ZP 414) - gunmetal gray metallic, Indigo (ZP 415) - deep indigo with starry metallic flecks, Kotori (ZP 416) - glittering aqua metallic, Suvi (ZP 417) - deep green metallic, Rea (ZP 418) -amethyst metallic, Lael (ZP 419) - eggplant purple cream.
Both collections feature Zoya's best-selling, professional natural nail lacquer formula. As always, Zoya healthy nail colors are free of harmful industrial chemicals like toluene, formaldehyde and dibutyl phthalate (DBP) that are known to cause cancer and birth defects. Zoya polish comes in a 0.5 oz. bottle and retails for $6.00 ea.
Coordinating Zoya Hot Lips glossy lip balms also available in 0.42 oz. tubes The suggested retail for Zoya Hot Lips is $6.00 per tube.
Make color last with the 4 step Zoya Color-Lock system. The system includes the following...
Remove+: Incredible polish remover, nail cleaner and color prep product. "Big Flipper" bottle makes one handed use a breeze. Zoya Remove + in the 8 oz. Big Flipper pump bottle retails for $9.99.
Anchor - basecoat: Forms a bond between nail bed and the nail lacquer, provides a surface for lacquer to cling to, prevents bubbling and peeling, complex protein chains strengthen nails, extends polish wear for days. 0.5 oz. Zoya Anchor bottles retail at $8.00 ea.
Armor - topcoat/uv block: Ultra flexible formula bends with nails, minimizes chipping and provides UV protection. 0.5 oz bottle. 0.5 oz. Zoya Armor bottles retail at $8.00 ea.
Hurry Up - speed dry drops: Speeds drying time, prevents bubbles, enhances color vibrancy with camellia oil, provides UV protection/prevents yellowing, conditions cuticles, extends polish wear. 0.5 oz. Zoya Hurry Up with dropper bottles retail at $16.00 ea.
Find the Zoya Uptown and Downtown collections along with over 200 other ultra high-fashion Zoya shades and the exclusive Zoya Color-Lock system at fine salons and spas across the country, or online at http://www.zoya.com. Call 1.800.659.6909 to order by phone or to reach customer service. Not available in drugstores.
Press samples available upon request.
###