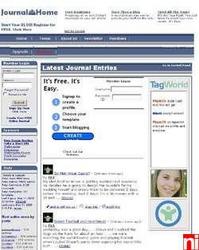 Not all bloggers want to host their own blogs, and not all bloggers want to deal with the technical side of blogging
London, UK (PRWEB) August 8, 2007
In an age where people have to worry about getting fired from their jobs over what they post in their blogs, most blog platforms and hosting solutions fall short. Those more traditionally used for personal blogging and journaling don't usually offer the features bloggers want (such as for marketing or monetizing their blogs), while those more traditionally used for business and professional blogging rarely offer adequate privacy options on a per-post basis. Journal Home (http://www.JournalHome.com) provides solutions to all of these problems with the addition of several new tools and features for their free blog hosting solution launched in 2005.
"Not all bloggers want to host their own blogs, and not all bloggers want to deal with the technical side of blogging," says Florent Guelfucci, owner of JournalHome.com's free blog hosting solution. "We try to combine the best of both worlds… the ability to control blog privacy levels without sacrificing things like marketing tools that can help bloggers gain readers and make money from their blogs."
The latest tools and plugins added to http://www.JournalHome.com include:
Security Script - A script was added to the site to help stop comment and trackback spam.
Twitter Plugin - Read and update all your tweets while you blog.
MyBlogLog Plugin - A plugin allowing bloggers to include a MyBlogLog widget (to display recent visitors) without having to create and insert MyBlogLog's widget code manually.
FineTune Plugin - The FineTune plugin allows bloggers to easily add a playlist to their blogs.
Social Bookmarking - New social bookmarking settings have been added to the blogs' control panels to allow bloggers to take advantage of social bookmarking features in their marketing.
Blog Publisher Compatibility - Journal Home blogs are now compatible with several desktop blog publishing applications, such as Windows Live Writer, Movable Type, and ScribeFire.
Adsense Plugin - You can add Google Adsense on all your blogs.
About JournalHome.com:
Journal Home is a free blog hosting solution, launched in March 2005 by Florent Guelfucci. In addition to free blog hosting, Journal Home offers a paid subscription option for bloggers wanting to take advantage of added features. The site also offers a webmaster forum where new bloggers can learn about running and marketing their blogs successfully, and a webmaster directory where bloggers can be listed. Journal Home is the blogging platform of choice for over 7000 bloggers, running over 30,000 blogs on the system.
For more information about Journal Home's free blog hosting solution, please visit http://www.JournalHome.com, or contact Florent Guelfucci at +44 7957198173.
###