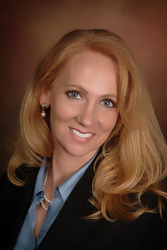 Grapevine, TX (PRWEB) August 7, 2007
Gaylord Texan Resort & Convention Center on Lake Grapevine is pleased to announce the addition of Debra Barcuch to its world-class hotel team, serving as director of marketing and communications. In her role, Barcuch will be responsible for directing the development, implementation, and evaluation of integrated marketing and public relations plans for the resort.
Prior to joining the Gaylord Texan team, Barcuch was president and owner of DB Marcom, Inc., a strategic marketing and consulting firm specializing in market positioning and the development of branding solutions. In her extensive career, Barcuch also served as Vice President of Marketing and E-Commerce at Nu-kote International, the world's largest manufacturer of aftermarket imaging supplies; Director of Account Services for Shoestring Advertising in Dallas, Texas; and Media Buyer for Walton Communications in Dallas, Texas.
Barcuch holds a Bachelor of Arts in Radio/TV/Film and Business Management from the University of North Texas, as well as an MBA in Executive Management from the Cox School of Business at Southern Methodist University.
About Gaylord Texan Resort & Convention Center
Already the premier convention destination of the American Southwest, Gaylord Texan Resort & Convention Center on Lake Grapevine offers world-class facilities, more than 400,000 square feet of convention space and four-and-a-half acres of Texas vistas under signature atriums. Ideally situated on the shores of beautiful Lake Grapevine, Gaylord Texan is only six minutes from Dallas-Fort Worth International Airport. Gaylord Texan is a Gaylord Hotels-branded property owned by Gaylord Entertainment (NYSE: GET), a Nashville-based hospitality and entertainment company that also owns and operates Resort Quest International and the Grand Ole Opry. For more information, visit http://www.gaylordhotels.com.
Media Contact: Martha Neibling, Public Relations Manager 817-778-1145
###