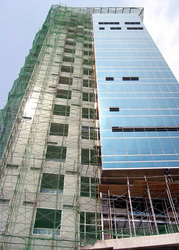 Commercial markets were a couple years out into the future
Toronto, ON (PRWEB) August 14, 2007
A new type of house wrap launched in U.S. markets in June 2006 as the answer to home builders' moisture woes is now showing up on commercial buildings and skyscrapers from Shanghai to Manila.
In its largest application to date, DELTA®-DRY, an impermeable, energy-saving "barrier wrap" that provides advanced drying/drainage and reflects radiant heat, was installed this June on the new Philippines regional headquarters of Korean shipping giant Hanjin Shipping and Industrial Co. In addition to Hanjin's office tower in Global City, Manila, the new protective wrap manufactured by Cosella-Dorken Products Inc. of Beamsville ON, is also being installed on administration buildings at Hanjin's new shipbuilding facility now under construction in nearby Subic. When completed, the 2.3 million sq. ft. shipyard will be the fourth largest in the world.
With its stud-and-channel construction, DELTA-DRY uses convective airflow to drain and dry interior and exterior components of the building envelope. This contrasts to standard house wrap, which is vapor-permeable and employs diffusion. DRY's metallic silver surface reflects back about 60% of radiant energy to keep buildings cooler in summer, warmer in winter. Following its introduction last summer at PCBC, a west coast builders' show, DELTA®-DRY has won five awards and distinctions, including a "Best Product of 2006" award from Popular Science Magazine (December 2006).
Its latest recognition was in July when Home Builder, the magazine of the Canadian Home Builders' Association, chose DELTA-DRY from hundreds of submissions to head its list of 40 "Products to Try" in its annual new product showcase.
The growing sales of DELTA-DRY for commercial construction have taken manufacturer Cosella-Dorken by surprise. "We developed DELTA®-DRY first for residential markets, to deal with the epidemic of rot and mold caused by moisture buildup in house walls," says Tom Fallon, Cosella-Dorken Vice President.
"Commercial markets were a couple years out into the future," he adds, "but apparently DELTA-DRY has leapfrogged right over our marketing plans."
DELTA-DRY is being used in a variety of residential and commercial applications in the U.S., including the Bellingrath, an enclave of multimillion dollar townhomes on Peachtree Road in Atlanta, GA. For more information on DELTA-DRY, visit http://www.delta-dry.com.
CUTLINES (2 images):
1. Behind the curtain wall of Hanjin Shipping's new, 25-storey regional headquarters in Global City, Manila PH, is a new type of house wrap. Launched in June '06 as the solution to moisture problems of new homes in North America, DELTA®-DRY is being adopted for commercial construction in Asia. An impermeable "barrier wrap", it functions as an advanced rain screen system that drains and dries on both sides, and saves energy by reflecting up to 60% of radiant heat.
2. A new house wrap that's jumped from houses to high-rises in less than a year, DELTA®-DRY is seen here on the new regional headquarters of Hanjin Shipping in Manila, PH. The new, impermeable "barrier wrap" uses convection to drain and dry, saves energy by reflecting radiant heat.
###