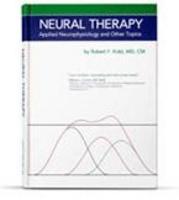 Often they are the cause of referred pain originating far from the part of the body where a patient feels symptoms
Renfrew, Ontario, Canada (PRWEB) August 8, 2007
On Sept. 14-15 in Chicago, Canadian physician Robert Kidd, MD, CM, will offer a hands-on course in neural therapy, a safe, effective pain treatment method. Dr. Kidd is the author of Neural Therapy: Applied Neurophysiology and Other Topics, the first neural therapy textbook written in English in more than 20 years.
"Physicians in Germany have used neural therapy for more than 70 years to identify and treat the underlying cause of pain and illness -- from migraine to irritable bowel syndrome," Dr. Kidd explains. "But few physicians in the English-speaking world have been trained in this remarkable healing modality."
Dr. Kidd's two-day hands-on course explains how to use neural therapy to diagnose and treat patients. After the course, physicians can start integrating this method into their medical practices immediately.
Neural therapy's success is based on finding and treating areas of electrophysiological instability known as interference fields. These electrical disturbances may be found in scars, autonomic ganglia, internal organs and other places.
Interference fields have lower, or higher, electrical potentials than surrounding tissues. "Currents flow from areas of higher voltage to areas of lower voltage and seem to send confusing signals to the body's nervous system," says Dr. Kidd. "The body sometimes reacts in inappropriate ways, resulting in altered autonomic nervous system tone, chronic pain and/or dysfunction."
Any symptom related to bodily functions controlled by the autonomic nervous system, such as bronchospasm, indigestion, constipation, sexual dysfunction, painful menstruation or even cold hands or feet, may be partially or totally caused by an interference field.
"Chronic pain -- especially complex regional pain syndrome -- often has an autonomic component such as nausea or sweating," Dr. Kidd explains. "An interference field may also be suspected if sciatica or any other leg pain is accompanied by coldness or change in skin color."
Interference fields can be found almost anywhere in the body. "Often they are the cause of referred pain originating far from the part of the body where a patient feels symptoms," Dr. Kidd explains. "For example, an old appendix scar might cause migraine headache, or a wisdom tooth extraction scar might cause chronic low-back pain. Because these relationships are totally unpredictable, physicians need to search for interference fields everywhere in the body."
Neural therapy treats interference fields by injecting them with a local anesthetic such as procaine. "Local anesthetics have an interesting property apart from their numbing ability," says Dr. Kidd. "They can also restore abnormal electric potentials or regulate unstable electrical membranes in tissues."
Register now for the Sept. 14-15 neural therapy course
Dr. Kidd's neural therapy course will be held in Chicago at the Radisson Hotel and Suites, 160 E. Huron, a half-block east of Michigan Ave. along Chicago's Magnificent Mile. Tuition is $600 USD. To register, call Dr. Kidd's office at 613.432.6596. A special room rate of $169.00 is available until Aug. 14. Call 312.787.2900 now for hotel reservations and ask for the Neural Therapy group rate. For more course information, visit http://www.neuraltherapybook.com/NTcourses.php.
Robert Kidd, MD, CM, is a Canadian physician who has taught neural therapy in the U.S. and Canada since 1995 and practiced it since 1987. He is the author of Neural Therapy: Applied Neurophysiology and Other Topics. Dr. Kidd is past president of both the Canadian and American Associations of Orthopaedic Medicine and has practiced, taught, researched and written about orthepaedic medicine for many years. He has also served on the editorial board of the Journal of Orthopaedic Medicine. Dr. Kidd attracts difficult-to-treat patients from all over North America to his Ontario, Canada-based practice. Visit his web site at http://www.neuraltherapybook.com.
###