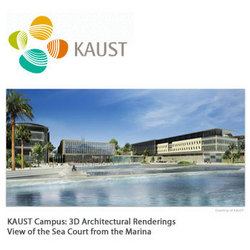 Innovation and the need for scientific discovery know no international boundaries
Riyadh, Kingdom of Saudi Arabia (PRWEB) August 8, 2007
Based on the decades-long vision of the Custodian of the Two Holy Mosques, King Abdullah bin Abdulaziz Al Saud, Saudi Arabia is developing a unique new world-class graduate research university that will provide significant support for scientific discovery and human advancement within the Kingdom, the region and around the globe. King Abdullah University of Science and Technology (KAUST), which will have one of the largest university endowments in the world and will be governed by an independent Board of Trustees, is being built at a site along the Red Sea approximately 80 kilometers north of Jiddah. The campus is expected to open in September 2009.
"Innovation and the need for scientific discovery know no international boundaries," noted His Excellency Minister Ali Ibrahim Al-Naimi, Saudi Arabia's Minister of Petroleum and Mineral Resources, whom King Abdullah selected as KAUST's chief institutional architect.
KAUST will recruit leading scientific researchers, including faculty, administrators and students, on an international basis. A search committee, made up of international academic and business leaders, has already begun a global search for the university's Founding President, who is expected to be in place by the end of 2007 or early 2008. Following that appointment, recruitment of other top administrative positions will proceed.
KAUST's academic model is structured around four Research Institutes, each of which will include Research Centers devoted to a particular set of issues or challenges that could benefit from concentrated scientific and technological study. The Institutes include among others:

The Resources, Energy and Environment Institute, with Centers initially devoted to challenges in energy research; water and sustainable development.
Biosciences and Engineering Institute, with Centers focused on environmental bioscience, industrial biotechnology, agricultural biotechnology, health science and technology.
Materials Science and Engineering Institute, with Centers interested in problems relating to polymers, membranes and nanomaterials, catalytic chemistry and materials for high-stress environments.
Applied Mathematics and Computer Science Institute, with Centers focused on language software technologies and computational linguistics, IT innovation.
"The animating principle of KAUST is to organize interdisciplinary teams around specific scientific and technological problems in order to innovate and achieve breakthroughs," said Minister Al-Naimi. "This is what every leading academic and research expert tells us is the key to the future of innovation. And they're all watching KAUST with great hope and curiosity."
KAUST's research will be carried out at its campus in Saudi Arabia, as well as at many other leading research institutions through a dynamic global grants program that will begin this year. The preliminary budget of the Global Research Partnership grants could reach up to $1 billion over a period of 10 years. It will be awarded on a competitive basis to other collaborative institutions and researchers in the areas of advanced concepts in desalination and water supply; carbon capture and hydrogen-rich fuels; industrial biotechnology; catalysis and polymer chemistry; language software technologies and computational linguistics; and scientific computing.
The University will also initiate the KAUST Discovery Scholarship for accomplished first-degree or bachelor's students. The competitive Scholarship will cover the costs of tuition, and room and board at the recipient's university or college. Upon graduation, recipients will continue their graduate studies at KAUST.
The King Abdullah Scholar Award will support outstanding students at leading universities worldwide. King Abdullah Scholar Award recipients will be invited to attend seminars and special research events on the KAUST campus, and be provided summer research opportunities at KAUST and related career development opportunities.
About KAUST
The King Abdullah University of Science and Technology (KAUST) is being built in Saudi Arabia as an international, graduate-level research university dedicated to inspiring a new age of scientific achievement in the Kingdom, the region and around the globe.
As an independent, merit-based institution, KAUST will employ many of the best practices from leading research universities and enable top researchers from around the globe and across all cultures to work together to solve challenging scientific and technological issues. The KAUST global research and education network will support diverse talents both on its campus and at other premier universities and research institutions, through collaborative research agreements, grants, and student scholarship programs. The core campus, located on more than 36 million square meters on the Red Sea near Rabigh, is set to open in September 2009. For more information about KAUST, visit http://www.kaust.edu.sa.
###