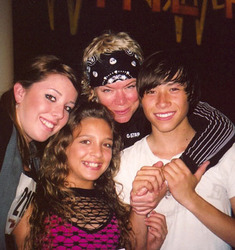 In my wildest dreams, I never would have expected our studio to win so many dance scholarships from the Broadway Dance Center and the famous staff of choreographers
Scottsdale, AZ (PRWEB) August 8, 2007 -
Talented members from the Arizona Angels Dance studio took New York by Storm, by winning seven of only fifty dance scholarships that were presented to convention attendees, at the Pulse Convention in New York City. Twenty- three dancers and five staff members from the Angels Studio traveled to the Big Apple from July 7th-12th, to attended the Convention.
"In my wildest dreams, I never would have expected our studio to win so many dance scholarships from the Broadway Dance Center and the famous staff of choreographers," states Amy Leroy-Gelb, owner of the Arizona Angels Studio.
The scholarship winners from the Arizona Angles Studio are Corey Allan, Chaz Buzan, Marissa & Alyssa Mezzatesta, Ashley Cole, Alie Costa and Chrissy Porter. Chaz Buzan won the Number One Pulse Teen Performer of the Year and will be the only dancer invited to present his solo at the upcoming convention in Las Vegas. The Angel scholarship winners will attend the Las Vegas Pulse Convention in November free of charge.
The Pulse Faculty included; Mia Michaels, Criss Judd, Shane Sparks, Laurie Ann Gibson, Brian Friedman, Tyce Diorio, Dave Scott and Wade Robson. They spent six days away from the busy So You Think You Can Dance TV series to teach advanced Hip Hop, Lyrical, Broadway, and Jazz routines to thousands of dancers from all over the world.
This prestigious event involves dancers from as far away as South Africa, coming together in the spirit of learning and furthering their dance careers. In addition to the So You Think You Can Dance judges and choreographers, the cast of Legally Blond, Hairspray, and the producers of A Chorus Line on Broadway were in attendance as guest instructors.
Mia Michaels (Emmy nominee, American Choreography Award nominee and judge on So You Think You Can Dance), Cris Judd (actor, songwriter, dancer and choreographer), and Ben Susak (top 10 So You Think You Can Dance) were so impressed with the talent at the Scottsdale-based Arizona Angels Studio that they are making arrangements to come to the studio to choreograph several competition pieces.
Arizona Angels who also attended the convention and competition include: David Klibenoff, Taylor Marquess, Paxton Zwiefel, Jennifer Gordon, Ashley Hancock, Lexi Freed, Alex Dravillas, Beri & Bailey Hayenga, Levi Payton, Ashley Condo, Madison & Morgan Semple, Madison Mason, Brenna Stewart and Kiera Ryckman.
###