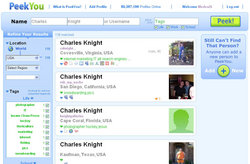 With this new set of tools and search options we are striving to create best-of-class experience across the board. Our goal is to create the easiest and most accurate people-search experience, constantly innovating and leading the way in this emerging space
New York (PRWEB) August 15, 2007
PeekYou.com (http://www.peekyou.com), the innovative search engine dedicated to finding people on the web, announced today that it has updated its tool set to offer users the quickest and most relevant online people-search capabilities. The Web site is the Internet's first true openly-edited white pages, allowing users to easily locate other people with an online presence and access a list of all links about the person being searched. PeekYou now boasts an advanced set of tools, cleaner design, speedy profile editing, and a user-friendly navigation experience.
PeekYou offers the most comprehensive set of search tools, setting the standard for all other people search engines. Here's why:

The layout of PeekYou's new homepage and profiles is clean, easy to navigate, and offers the user an abundance of rich information as well a multitude of customizable ways to search, allowing users to quickly narrow down and find the specific person they are looking for.
PeekYou offers the simplest and most useful people-search refinement tools. These tools make people searching effective and ensure fast and accurate results.
The new tool bar allows the user to search by a more sophisticated combination of fields than any other people-search engine - users may search by any combination of first name, last name, username (screen name, etc.) or tags (interests, school, or work).
These tools offer users unprecedented dynamic means to find someone - for example if you know something about the person, such as they never worked for Microsoft, didn't go to Harvard, or have nothing to do with 'bungee jumping', you can weed out all those name matches that feature these tags in their Work, School, and Life categories respectively. This capability allows users to actively narrow down search results by elimination.
Using the location tool, the user can refine a large list of search results to find someone who lives in a specific city. Search results refresh upon selecting country, state/province, and city, offering the user a narrower, more useful result set. This is very useful for popular names, for example helping find a 'Jim Smith' in Sacramento quicker than by clicking "next page" a dozen times. No other people search engine offers this functionality.
By displaying the most popular tags across any search result, PeekYou reveals interesting insights into the world-at-large. For example, across the group of over 15,000 people listed with an interest in 'camping,' the most popular school is Arizona State University, and the most popular employer is the US Army.
PeekYou empowers users by inviting them to make direct edits to their own profile or that of any other user, with changes appearing instantly. Users can add new web links or edit existing ones along with their appropriate descriptions, as well as edit tags which in turn determine the very way that person's profile can be found.
PeekYou now incorporates people's RSS feeds to update profiles with live links to recent blog posts (Blogger.com, Wordpress, Twitter) or photos (Flickr, Picassa), further enhancing the portrait of any individual's online identity.
"With this new set of tools and search options we are striving to create best-of-class experience across the board. Our goal is to create the easiest and most accurate people-search experience, constantly innovating and leading the way in this emerging space," said Michael Hussey, founder of PeekYou.
Created by the founder of RateMyFace.com, RateMyTeachers.com, and RateMyProfessors.com, Michael Hussey, PeekYou aims to be an open-source directory of every individual online. Hussey, who has been featured on CNN, NPR and BBC among others, looks to bring his experience in developing popular consumer-destination sites to building PeekYou into the premiere people-search engine. PeekYou has already created profiles for over 50 million users, with more being added every day. PeekYou differentiates itself from other people searchers such as Spock.com, Wink.com, and Pipl through two crucial features:
1) The site's ability to link and identify numerous Internet identities and links into a single individual profile through intelligently integrating publicly available information, while avoiding duplicate profiles, and striving for 99.5% accuracy in matching Web links to specific people.
2) An infrastructure of unprecedented openness, transparency, and user-empowering features. PeekYou trusts its user community with the flow and display of information, though all changes are monitored by human admins. PeekYou invites users to actively sculpt the landscape of its information, allowing them to edit and describe anything on a profile, from tags, links, personal information, and a wiki'd biography. This vibrant two-way relationship with its user base transcends the structural bottlenecks imposed by other less dynamic people-search engines.
About PeekYou
PeekYou.com (http://www.peekyou.com) is the innovative search engine dedicated to finding people online. The site has been in stealth mode since October 2006 and officially launched in Beta Mode in July 2007, with over 50 million users and more being added everyday. PeekYou is the Internet's first true openly edited white pages. The site allows users to easily locate other Internet users with an online presence and access a list of all relevant links to the person being searched. PeekYou satisfies a huge demand for Internet users looking to track down friends, family and business associates. PeekYou is privately funded by Duggal Dimensions, LLC, founded by Baldev Duggal who has been at the forefront of technology and creative innovation in the photo and computer imaging field for over 35 years.
For more information, please visit http://www.peekyou.com.
Recent links of interest:
"PeekYou is Better Than Google" - http://www.simplekindoflife.com/2007/08/14/find-people-peekyou-is-better-than-google/
PeekYou #5 on Google Trends - http://www.google.com/trends/hottrends?q=peekyou&date=2007-8-3&sa=X
Spock, PeekYou Step Into Search Madness - http://www.internetnews.com/xSP/article.php/3693891
###