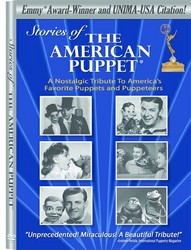 Wilbur's simple story lines and subtle messages that reading books is fun and that books are filled with lots of exciting information, encourages children to develop a lifelong love of learning
New York , NY (PRWEB) August 20, 2007
Old MacDonald never had a farm like this. During September's National Literacy Month, preschoolers are in for a "moovelous" time when Discovery Kids welcomes five all-new episodes of Wilbur, the popular TV series inspired by three moms and designed to inspire a love of reading and books. With a nostalgic red barn as a backdrop, a lovable crew of barnyard animals, and cutting-edge puppetry techniques, Discovery Kids gets a jump-start on teaching early literacy skills to preschoolers as Wilbur, an enthusiastic calf, helps show young viewers that reading and books are fun.
Wilbur debuted in April as part of Discovery Kids Channel's Ready Set Learn! , a multi- award-winning, commercial-free programming block for preschoolers. New episodes of Wilbur will air the week of September 10 in conjunction with National Literacy Month. Wilbur is seen at 11:00 AM (ET) on Discovery Kids and 7:30 AM (ET/PT) on TLC.
Also during the week of September 10, Ready Set Learn! will feature all-new episodes of Peep and the Big Wide World (with an episode voiced by Academy Award® Winner Holly Hunter), Bigfoot Presents: Meteor And The Mighty Monster Trucks, Hip Hop Harry and Toddworld. Ready Set Learn! airs weekdays from 9 AM -- 2 PM (ET) on Discovery Kids and from 6 -- 9 AM (ET/PT) on TLC.
The entire week of premieres is geared toward helping children learn about teamwork, listening, and problem-solving, among other important topics, by promoting optimism, persistence and resilience.
Wilbur was conceived by Jill Luedtke, Kim Anton and Tracey Hornbuckle, three moms who saw a need to enhance early literacy skills among young children. The moms were inspired by a visit to a Utah farm where they met an adorable little calf named "Wilbur." They wanted to help lay a foundation for reading and felt that a barnyard with charming animal characters was the perfect setting.
"Wilbur's simple story lines and subtle messages that reading books is fun and that books are filled with lots of exciting information, encourages children to develop a lifelong love of learning," say mom creators Jill Luedtke, Kim Anton and Tracey Hornbuckle. "We want children to associate reading with pleasure, which we know is a powerful motivating factor as they learn to read."
In each episode, Wilbur and his barnyard buddies Dasha, an inquisitive duck; Ray, a flashy and opinionated rooster; and Libby, a sweet two-year-old lamb, find themselves in a new situation or dilemma. Wilbur knows that books are full of ideas and that they can help the barnyard buddies solve the problem. Wilbur then takes kids through the process of reading an actual storybook.
From the moment his hoof scans the words, "Once upon a time...," the story literally comes to life, transporting viewers into an animated world. As Wilbur continues to narrate and turn each page, kids follow along as the storybook characters face a dilemma similar to the one back in the barnyard. For example, Wilbur and Ray want to play the Great Shapes Game with Libby but she doesn't know how to match shapes. Oh no! Thankfully, help is on the way. The Zoo Keeper's daughter in Wilbur's book demonstrates how to match shapes while working to plug the hole of her thirsty giraffe's water bucket. Now, Libby is ready to match and play.
Wilbur was created in consultation with early childhood experts with the goals of helping young children increase their print recognition, oral vocabulary and listening comprehension. The series helps children develop the patterns, flow and nature of written language. The technique of seeing actual storybook text helps kids learn that the print on a page symbolizes words, that the words tell a story and that the pictures help represent what the words are saying. Kids will learn that books are read from left to right, top to bottom, and that if they want to find out what comes next, all they have to do is turn the page.
In each story, Wilbur's book is retold by real kids in order to help the barnyard pals find the answers to their problems. Retelling each story also helps develop the early literacy skills of sequencing, story structure, identifying concepts and making inferences. And, finally, Wilbur helps reinforce that books are loaded with information that can help solve problems and shed new light on everyday situations.
Wilbur is a production of Mercury Filmworks, in association with Chilco Productions, EKA Distribution, Canadian Broadcasting Corporation and Discovery Kids. For Discovery Kids, Amy Sprecher, who brought WILBUR into the network, and Erin Wanner are executive producers. Marjorie Kaplan is the executive in charge of production.
Ready Set Learn! (http://www.readysetlearn.com) is an award-winning, commercial-free programming block with a curriculum that acknowledges preschoolers' innate curiosity and is designed to foster optimism and resilience in their expanding exploration of the world. It airs on both TLC and the Discovery Kids Channel. Discovery Kids Channel lets kids of all ages (from preschoolers to tweens and teens) explore their world from their point of view. This 24-hour digital cable channel provides entertaining, engaging, and high-quality real-world programming that kids enjoy and parents trust. Every day, kids can learn about science, adventure, exploration and natural history through documentaries, reality shows, scripted dramas and animated stories. Garnering multiple Emmys as well as awards for quality children's television, Discovery Kids is committed to satisfying kids' natural curiosity about... well... everything.
###