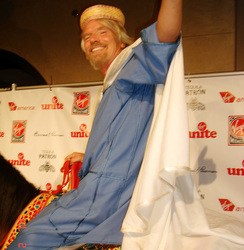 The Rock the Kasbah Ball
Los Angeles, CA (PRWEB) August 16, 2007
The Echelon Club gathered its members this summer at "The Rock the Kasbah Ball," a glamorous Moroccan themed event held at the Hollywood Roosevelt Hotel to support and honor Eve Branson, mother of Sir Richard Branson, for her charitable works. The event benefited Virgin Unite, raising proceeds to fund financial and educational programs for innumerable Moroccans in need. The event was hosted by Sir Richard Branson and acclaimed actress Marial Hemingway, and attended by a variety of celebrities including Buzz Aldrin, Michelle Rodriguez, Rachel Hunter, John Salley, Paul Mitchell and many more. The gala ended with a powerful performance by Grammy-nominated songstress Jewel and percussion powerhouse Naked Rhythm.
The Echelon Club is adding a dynamic new dimension to private clubs, by bringing together influential people in a social setting to benefit selected charities. As a result, The Echelon Club is living up to its name and positioning itself as one of the most talked about charitable clubs in Hollywood. At its events, the upper echelons of society come to find quality, sophistication and elegance, and when visitors from the upper social order visit Los Angeles, they find The Echelon Club. Angelenos as well have found the club through word of mouth because of its chic events.
Kimberly Moore, CEO of the organization, with her characteristic savior-faire, has successfully brought the royals, the literati, and the celebrities together in Los Angeles, where in the past these groups may have met but certainly not on this level.
"The Echelon Club is not your typical club," says Ms. Moore. "I had an idea of creating a club filled with influential and interesting people from around the world who not only expressed interest in meeting like-minded professionals, but also have a desire for making a difference in today's world."
The Echelon Club was introduced during this year's Golden Globe festivities, and later helped lay out the red carpet for a number of official events for the Oscars. The Echelon Club has also been a key sponsor at events such as The Sony Celebrity Photo Exhibition, which benefited The Constant Gardener Trust, Keep a Child Alive and Women for Women International. Recent events have included The Echelon Luncheon, Velvet, and Dinner under the Stars, a glamorous star-studded affair in a Bel Air palace where waiters wore white gloves and served esteemed guests.
For more information visit: http://www.theechelonclub.com
# # #