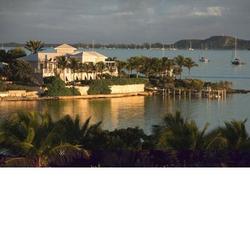 The Out Islands of the Bahamas makes for a one of a kind vacation, and if the CBS Morning Show viewers need to relax there is no better place to do just that
Plantation, FL (PRWEB) August 9, 2007
The Out Islands of the Bahamas in conjunction with the CBS Morning show is offering one lucky viewer a chance to win a Caribbean trip for 5 days, 4 nights. The trip includes full accommodations at the luxury Caribbean resort, February Point Resort Estates, located in The Exumas, Bahamas.
February Point Resort Estates sits on 80 acres and is one of the newest developments in The Exumas, offering a laidback atmosphere with all the amenities of a luxury Caribbean resort. From sailing, fishing and diving each guest has their own private pier to relax on. This luxurious resort also has state of the art fitness equipment and offers some of the most exotic spa treatments. Guests are also able to enjoy the world's best snorkeling or underwater cave exploration and encounter some of the oldest shipwrecks.
"The Out Islands of the Bahamas makes for a one of a kind vacation, and if the CBS Morning Show viewers need to relax there is no better place to do just that," said Anthony Stuart, Executive Director for the Bahama Out Islands Promotion Board. "All of our islands feature luxury Caribbean resorts that are second to none; able to accommodate tourists from around the globe."
CBS Morning Show viewers have been asked to write to the show explaining why they think they deserve "A Great American Vacation." The winning individual and a guest will have transportation provided by American Airlines Vacations to this luxurious Caribbean resort where they will enjoy all of its world class amenities.
About Out Islands of the Bahamas:
The Out Islands of the Bahamas are located just 50 miles off the coast of Florida and include The Abacos, Acklins, Andros, Bimini, Cat Island, Eleuthera/Harbour Island, The Exumas, and Long island. The center of activity in The Exumas is concentrated on the main island of Great Exuma and the capital city of George Town. Here, visitors find beautiful and well preserved historic buildings, shopping, boutique hotels, native restaurants and growing nightlife. All of these islands offer the most exquisite luxury Caribbean resorts along with unparalleled beauty. To learn more about The Out Islands of the Bahamas, please visit http://www.MyOutIslands.com or call 1-800-OUT-ISLANDS.
###