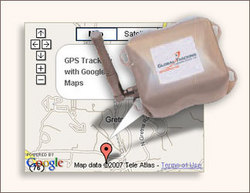 With Google's API becoming available, we believe that Google offers the best mapping platform for development of a robust mapping feature-set for GPS tracking that will exceed our customers needs both in the U.S. and international markets
Murietta, CA (PRWEB) August 9, 2007
Global Tracking Communications, Inc, a leading North American supplier of GPS tracking systems and web enabled software, has announced they will incorporate Google Maps into the latest version of their Globaltrack web tracking and reporting software service.
Andy Kustes, CTO of Global Tracking Communications, Inc., explains "With Google's API becoming available, we believe that Google offers the best mapping platform for development of a robust mapping feature-set for GPS tracking that will exceed our customers needs both in the U.S. and international markets".
Google's satellite imaging is another key component to Global Tracking Communication's decision to develop their GPS vehicle tracking mapping application using Google's platform. Satellite imaging is a critical feature that improves the ability to pinpoint location using GPS tracking technology in under-developed geographic regions such as the Middle East and Africa where standard digital mapping street data in not currently available. As more companies in these regions are considering using vehicle tracking technology for gps tracking and asset management as ways to improve on safety and theft recovery efforts, satellite imaging will be a key feature to help the success of GPS tracking in these areas.
Each day, new "Mashups"-- hybrid software that combines content from more than one source are being created (see: http://news.com.com/2009-1025-5944608.html ) using Google' mapping engine as the focal point. These development efforts will continue to revolutionize the way GPS tracking data is presented to businesses who wish to improve on fleet management, safety and theft recovery using GPS vehicle tracking technology.
Global Tracking Communications vehicle tracking products are used by businesses for improving fleet management using the latest GPS vehicle tracking technology.
Global Tracking Communications Popular GPS Tracking Systems include:
The GPS Tracking Locator 2000. Our Locator 2000 series is ideal for the following industries:

HVAC,
Plumbing
Electric,
Construction,
Service Business,
Trucking
Distribution and Manufacturing
All of the the company's L2000 series locators are for unlimited use for a flat monthly fee so you will never incur overage charges L2000E (Pro) the company's #1 selling, full featured system for businesses of all sizes who want to save money by having complete visibility to their entire fleet and improve employee time management.
L2000A (Pro) Includes all features of the "E" Pro series, plus an internal backup battery in case of tampering or theft, and extra telemetry sensors for monitoring usage of in-vehicle powered items such as PTO's, sprayers, hydraulics, and other secondary power sources and equipment. Standard 3 year warranty included.
L2000 Nav+ - Includes all features of "A" Pro, plus ability to connect to in-vehicle laptop for in-vehicle navigation and mobile Internet connectivity.
L2000E (Lite) - Our "value" package that includes basic location services and reporting.
The Locator 6000 GPS Tracking system Our Locator 6000 is ideal for the following industries:

Transportation
Waste Management
The Locator 6000 is the "Mercedes Benz" (at Chevy prices) of the GPS real-time vehicle tracking world. This product has many advantages over its competition.The Locator 6000 GPS Tracking offers all the features of the Nav+ unit, and includes additional features and options:

On-board automated DOT reporting
J1708 Engine Diagnostic Reporting
Two-way text messaging
Paperless Forms
Recommended for "over-the-road" trucking industry
The Validator 5000 GPS tracking series
V5000 - The Validator 5000 series utilizes satellite communications to provide the complete real-time tracking solution for those who need to go beyond cellular coverage. Integrating a high performance GPS receiver and a satellite communication module into a compact enclosure, the Validator 5000 GPS tracking systems transmit positions and telematic data back to the control center. The web-based control center allows the user to communicate with and locate the vehicle, in addition to reporting and mapping the vehicle's activities.
On Demand (Locate Only)
Asset Protection Unit
Our Asset Protection Unit is ideal for the following industries:

Automobiles,
Automobile
Theft-Recovery and High Risk Auto Loan Companies
Protection Unit Asset Protection Unit
The Asset Protection Unit is a hard-wired unit. It is typically used for companies or individuals that do not have a requirement for constant monitoring of their vehicle(s) or asset(s), but have a need to locate their vehicles on demand, once or twice a day
APU Remotely disable the vehicle or unlock doors. This unit is inexpensive and ideal for many applications.
Passive (Non Real-Time)
Validator 2000
Our Asset Protection Unit is ideal for the following industries:

Automobiles
Automobile Theft-Recovery and High Risk Auto Loan Companies.
The Validator 2000 is an event-triggered, data-logging Vehicle Location System utilizing a two-way communication module to automatically download data to the base station. With NO MONTHLY SUBSCRIPTION FEES. V2000 The PC based software allows the user to run detailed reports for checking route efficiency, tracking miles driven, or checking up on that "questionable" driver. Five sensors for monitoring external inputs, such as doors PTOs, lights and switches
For more information about vehicle tracking products, visit the Global Tracking Communication website.
###