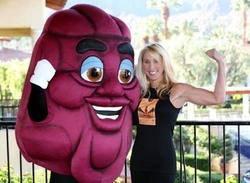 Fresno, Calif. (PRWEB) August 9, 2007
Back-to-school season is a great time to get the entire family back-in-shape, especially the kids. A recent nationwide study conducted by researchers at Ohio State and Indiana University found that kids actually pack on more pounds during the summer break than during the school year. That's why California Raisins and celebrity fitness trainer Valerie Waters are teaming up to help families earn an "A+" in healthy living this back-to-school season.
"Living fit and healthy should be a family affair," said Waters. "Parents need to be healthy role models and make nutrition and fitness a priority when it comes to day-to-day family activities."
Healthy Living 101
Waters is known for helping celebrity moms stay fit while juggling demanding work and family schedules. She believes getting in shape is no different for a super star or a super mom, and she offers the following tips for parents who want to help get their family's health and fitness levels back-on-track this back-to-school season — and all year long:
• Families that play together, stay fit together. It is great if your child participates in a sport like soccer or dance, but also find something for the family to do together. This could be a bike ride, family day at the gym, or even something as simple as playing tag or Red Rover. The key is to spend time together doing something active. Help your child realize that exercise equals fun.
• Food-wise. When you bring your lunch and snack with you to work or school, it guarantees you'll eat right. Take just 10 minutes after dinner to make lunch for the next day. Help your child learn to be responsible for his/her own nutrition by getting them involved. Children age 7 and under can choose from a pre-approved selection of snacks, like an apple, orange or box of California Raisins. Ages 8 through 10 can help assemble a sandwich under supervision, and 11-year-olds and up, can make their lunch while you make yours.
• Make a plan. Summer is fun and carefree, but with the first day of the new school year, structure returns. Your child's day quickly fills up with school, homework and after school activities. Now more than ever, it is important that exercise and meals are planned. Schedule meals so that your family eats together at the table at least once everyday. This is a good opportunity to slow down and eat mindfully. Sitting together allows you to stay involved in your child's life.
• Be consistent. Being healthy means consistently making wise choices over time. Nobody gets fit in one workout, nor do they change their eating habits in one week. It is important to be consistent in the messages you deliver to your kids. You will make a greater impact explaining the importance of exercise to your children, if you are committed to your exercise.
• Education through sampling. We all know kids can be notoriously picky when it comes to food. Try taking them to a farmer's market where they will learn that food doesn't just come from the supermarket and that there are seasons for different foods. They will be encouraged to sample a wide variety of fruits and vegetables and often nuts or dried fruit. And, a farmer's market is a fun outing for the whole family.
Extra Credit – Back-To-School Sweepstakes
The benefits of adopting these tips may be motivation enough to start taking action each day, but as an extra incentive, California Raisins is offering a chance to win a special Back-to-School Sweepstakes.
Entering is easy. Consumers can go to http://www.LoveYourRaisins.com to complete an entry form and be automatically entered to win a three night / two day trip to a major theme park in Florida or California for a family of four. The trip includes round trip coach air transportation from a major airport closest to the winner's home to theme park, ground transportation, and admission passes; a total sweepstakes value of $5,000. A complete set of sweepstakes rules and entry information is available online at http://www.LoveYourRaisins.com.
While registering for the sweepstakes, be sure to sign up for a free California Raisin lunch bag (while supplies last) filled with a California Raisin plush toy, California Raisin snack packs, water bottle, magnet and tips from celebrity fitness trainer Valerie Waters.
Also available at http://www.LoveYourRaisins.com are creative California Raisin recipes, more health and fitness tips from Valerie and detailed nutritional information.
"We are excited to continue working with Valerie Waters to help families make wise choices when it comes to their healthful eating and snacking decisions, as well as to provide this fabulous Back-to-School Sweepstakes and lunch bag offer," said Karla Stockli, Vice President of Marketing, California Raisin Marketing Board. "It is our hope that these fun incentives – along with a little expert advice – will help families adopt these healthy principles and take advantage of the health benefits of California Raisins this back-to-school season and all year long."
About the California Raisin Marketing Board
The California Raisin Marketing Board was created by a State Marketing Order in 1998 and is 100 percent grower funded. Its mission is to support and promote the increased use of California-grown raisins and sponsor crop production, nutrition and market research. To learn more about the California Raisin Marketing Board, visit its Web site at http://www.LoveYourRaisins.com.
###