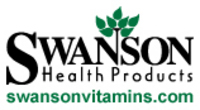 Fargo, ND (PRWEB) August 10, 2007
Today Swanson Health Products announced a significant price reduction on hundreds of products in the national brand lines they carry including Natrol, Enzymatic Therapy, Country Life, TwinLab and dozens more.
During a time when prices on many goods from homes to food to fuel have escalated faster than income has risen, Swanson Health Products has made a bold and unusual decision to reduce prices on many of their most popular products. The welcome news comes as a big surprise to many shoppers because Swanson, who is known for carrying superior quality supplements, already features attractive prices that are significantly lower than much of its competition. Lee Swanson, president of Swanson Health Products, is serious about offering supplements at the absolute lowest prices possible, so more health-conscious individuals can experience the invaluable benefits they offer.
Visit Swanson Health Products to shop the newly reduced national brands and to sign up for promotional offers that save you even more money on purchases. For a limited time, Swanson Health Products is offering free standard shipping on all domestic web orders of $65 or more.
Swanson Health Products is located in Fargo, N.D., and has been a leading vitamin and health products company since 1969. Their customers are number one and to prove that, they offer powerful guarantees. All products are backed by a 100% Satisfaction, Money-Back Guarantee and Double the Difference Lowest Price Guarantee. If you are not satisfied with your purchase for any reason, simply return the unused portion for a full refund of the purchase price. If you find a product priced lower in any competitor's catalog, let them know and they will refund you two times the price difference.
###