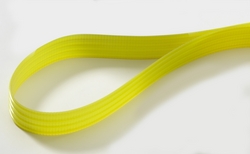 This isn't just an off-the-shelf urethane product, this is fundamentally different and can be leveraged for many different specialty conveying applications in the paper handling market
Manheim, PA (PRWEB) August 14, 2007
Fenner Precision, the global leader in the design and development of belts, pulleys and tires for paper propulsion applications, recently announced that a new high-friction polyurethane material is being used in the development of their belt products.
Fenner's M-14 flat belt is the first product to introduce this material. The belt is currently used in high-volume postage meters & mailing systems for one of Fenner's customers. The customer's need to process more mail faster, and to make their machines lighter, drove Fenner Precision to make material changes to the belt, which has been in the product design of the customer's mail systems for over ten years. Fenner's belt is located in the weighing and stamping section of the mail systems.
While researching a new material that could be used for the belt and meet the needs of the customer's application and other potential applications, Fenner Precision met with several material suppliers. Only one was successful in supplying it.
"This isn't just an off-the-shelf urethane product, this is fundamentally different and can be leveraged for many different specialty conveying applications in the paper handling market," explains Stan Kulikowski, Product Development Manager - Technical Specialty Products.
The properties include a high COF range against paper, and a very stable COF over the life cycle of the product; Kulikowski reported there was no COF change in over one million cycles in the customer's high-volume mail systems. There are also no fillers, and the belt is non-marking, even at high speeds - a benefit of the flexible urethane material used in the M-14 belt.
Fenner Precision has additional projects underway with other customers to utilize the material in belts for their applications. It is available in any of Fenner's belt styles, including their timing, flat and multi-v belts as well as their specialty belts. The belts are manufactured in Fenner's newly-expanded Manheim, Pennsylvania facility.
Fenner Precision is a global leader in the design and development of belts, pulleys, and tires for paper propulsion applications including office machines, mail handling machines and money handling equipment. The company also manufactures specialty technical fabrics for low friction and high temperature applications. Fenner Precision has two ISO 9001 accredited manufacturing plants, one in Lincoln, UK and one in Manheim, USA. Products are sold globally with sales and support offices in Lincoln UK, Manheim, USA and Shanghai, China. For more information, please visit http://www.fennerprecision.com.
###