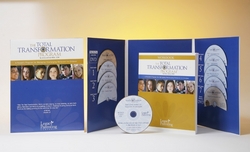 What we're doing with the Partner Program is adding a $100 cash incentive to the personal reward of providing a solution to other parents in need.
Westbrook, ME. (PRWEB) August 14, 2007
Legacy Parenting Company, a premier producer and publisher of personal development products for families, today announced the launch of its new Total Transformation Partner Program. The Total Transformation Program is Legacy Parenting's step-by-step multimedia program designed to help parents manage challenging behaviors in children and teens.
The Partner Program features two different tracks: the Commission Partner Program, which pays partners $100 for every sale made, and the Discount Partner Program, which allows partners to pass on a $100 savings directly to their friends, relatives, patients or customers. The Commission Partner Program is structured to enable customers who have already purchased The Total Transformation Program at full price to generate additional personal income for themselves, their favorite charity or non-profit by partnering with Legacy Parenting. The Discount Partner Program is ideal for professionals such as physicians, counselors, therapists or teachers who would like to recommend a quality child behavior product at a discounted price that can help solve problems for families.
"The Partner Program is designed to reward the loyal Total Transformation community for spreading the word about TT," said Steve Anderson, president of Legacy Parenting Company. "This program is changing the lives of families all over North America. In addition to our own international promotions, there's already a pretty strong grass roots, buzz marketing campaign going on here." Anderson added, "What we're doing with the Partner Program is adding a $100 cash incentive to the personal reward of providing a solution to other parents in need."
Enrolling in the Partner Program is free: Partners can join Legacy Parenting's sales team at no cost or obligation by signing up at http://partners.thetotaltransformation.com. All sales through the Partner Program are made directly through the Internet via a special web site: http://www.ordertotaltransformation.com. Orders are tracked using a specific Partner ID code. In addition, partners are not required to store any inventory nor do any shipping or handling of the product, and Legacy Parenting provides complete customer service.
"Selling only one program to a co-worker or selling hundreds to parents at a pediatric behavioral health clinic is perfectly fine," said Mike Ridge, Business Development Manager of Legacy Parenting Company. "As a Commission Partner, you will receive a commission check for that sale, and if you're a Discount Partner, your customer takes advantage of an instant $100 savings. By recommending TTP to parents, they are adding value to their current business and services by passing the savings on to their customers," said Ridge.
The Total Transformation Program is available through Legacy Parenting Company, at TheTotalTransformation.com.
Over 85,000 units of the TTP have been sold to date with about 1,000 currently being sold per week. In August 2006, the National Association of Social Workers approved the Total Transformation Program for 6 continuing education units under the long-distance learning for social workers guidelines.
Headquartered in Westbrook, Maine, Legacy Parenting Company is the world's premier producer and publisher of behavior management products and child behavior programs for families. With an annual growth rate of 41% in 2006, Legacy puts the knowledge of America's most respected psychologists in the hands of parents to give them practical tools they can learn and apply quickly in their families. The company's web site is http://www.LegacyParenting.com.
If you'd like more information on Legacy Parenting, The Total Transformation Program or would like to schedule an interview, please contact Steve Anderson at 207-856-5600x3002. Or visit the website at TheTotalTransformation.com.
###