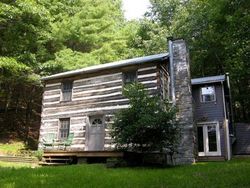 Successful business people are always exposed to stress. It comes with the job
Headwaters, VA (PRWEB) August 13, 2007
When Vernon Sylvest, M.D., writes a prescription for executives wanting to de-stress, it may read at first glance like an enticing travel brochure:
"Hiking in deep forested mountains… fording peaceful streams… refreshing body and spirit with family-style living, communal discussions and sharing sessions in an antique log house that predates the Civil War."
Actually, these are just some of the active ingredients in the veteran pathologist's unique Rx for healing and healthy living, which will be available to stressed-out CEOs -- and other health-seekers -- after October 20, 2007, when Healing Waters Lodge of Virginia opens its rustic doors on nearly 200 private acres in the mountains of Virginia's fabled Highland County, also known as "Little Switzerland." The farm, which adjoins the George Washington National Forest and was formerly owned by Dr. Elisabeth Kubler-Ross, has been turned into an intimate healthy living retreat by Dr. Sylvest and his wife, Anne, a former operating room nurse.
The retreat will enable Dr. Sylvest to teach what he practices as a pathologist and holistic physician in Richmond, VA. The week-long programs will include physical activities for the body and group sessions led by Dr. Sylvest that are designed to explore the vital role spirituality plays in healing and productive longevity.
Bridging traditional medical practices, psychology and mysticism, these Sharings are based on the prescription for wellness that Dr. Sylvest evolved during some 30 years of medical practice, laboratory discoveries, clinical research, and personal explorations, including a healing experience of his own, battling -- and winning against -- "incurable" chronic arthritis so debilitating he remembers considering suicide.
An honors graduate (first in his class) at Louisiana State University School of Medicine and a fellow with the American College of Pathology, Dr. Sylvest is currently Associate Medical Director with Bostwick Laboratories in Richmond, VA. He also co-founded the Institute of Higher Healing in Richmond (with Anne Sylvest), and has served as director of its Holistic Clinic and Educational Center. Dr. Sylvest's professional memberships include the American Medical Association and the U.S. and Canadian Academy of Pathology. He has also served on the boards of both the National Wellness Coalition and American Holistic Medical Association.
Dr. Sylvest's 1996 book, "The Formula: Who Gets Sick; Who Gets Well: Who is Unhappy; Who is Happy and Why" (SunStar Publishing) is now in its third printing. "The Formula" has been endorsed by such pioneers in holistics as Deepak Chopra, M.D., Bernie Siegel, M.D., and C. Norman Shealy, M.D., Ph.D.
Dr. Sylvest's Formula -- described by Deepak Chopra as a blend of spiritual traditions and Western healing "that really works" -- will be accessible at Healing Waters Lodge of Virginia to anyone interested in healing and healthy living. But Dr. Sylvest says the need is most critical among today's highly pressured executives.
"Successful business people are always exposed to stress. It comes with the job," he points out. "To manage that stress, to de-stress, one must learn how to 'reach a place of peace, and stay healthy'," he says. Therefore, "perceptual retraining" is one of the key routes to holistic wellness to be explored with guests during regular evening Sharings in the lodge.
Also on the program are twice-daily yoga classes, strengthening and toning exercises, daily massage therapies, and a lean-body diet (modified vegetarian). Staff members range from experienced leaders of mountain-wilderness group activities, to a folk-singing facility manager and a local sheep farmer who also owns a country store and looks after the Lodge office and house.
The Lodge accepts just nine guests at a time into its simply comfortable rooms -- think quilts, rocking chairs, and a wood-burning stove. The fee for a week's stay, including all programs and meals, is $2,500.
Healing Waters Lodge of Virginia is located in Headwaters, literally the headwaters of the Potomac River, 70 miles northwest of Charlottesville, VA and 150 miles southwest of Washington, DC. Transportation is available for guests who fly or train to Charlottesville, Staunton and Harrisonburg.
For details and reservations: 540. 396. 3466; office @ healingwaterslodgevirginia.com; http://www.healingwaterslodgevirginia.com
CONTACT:
Sue Williams
804. 644. 3946
healingwaterslodge @ earthlink.net
# # #