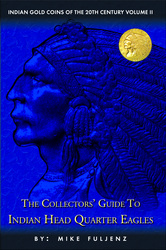 New York, NY (PRWEB) August 10, 2007
CoinNewsToday.com announced that it would feature a preview of the first 30 pages of Mike Fuljenz's latest addition to his popular series on coin collecting. The first segment will appear on CoinNewsToday.com starting August 12, 2007. This book, titled "The Collector's Guide to Indian Head Quarter Eagles covers the history of the numismatically important Indian Head Quarter Eagles. The beautifully illustrated soft-cover edition is 79 pages long with many full color photographs of coins from each mint year. The book provides an insider's insight into the history, design, and details of this famous coin series.
Mike Fuljenz, an author with numerous awards from the Numismatic Literery Guild for his books and publications has written another excellent guide for the numismatic community. This example of his research and writing skill provides a wealth of information in one concise yet definitive volume. Every aspect of the Indian Head Quarter Eagles is covered, from the history and origins of coins to even the statistical data. Topics include: History, design details, the people behind the coin series and the era of time when these coins were in circulation.
Mike Fuljenz, an expert numismatist explains not only the dynamic history and technical process behind this coin series, but also offers his personal views into the value of collecting these historic coins. For anyone contemplating collecting Indian Head Quarter Eagles or collectors who have just started, this book can help immensely with the many choices. It definitely provides the right information to point the reader in the right direction and focus in their quest for Indian Head Quarter Eagles.
This book is for seasoned coin collectors as well as those who have just picked up their first Statehood Quarter. If history repeats itself, this book could prove as valuable as a rare mint because previous books written by Mr. Fuljenz have sparked market surges for the coins covered.
The CoinNewsToday.com online preview of the first 30 pages will be presented in 5 segments over a five week period, with a new segment appearing on each consecutive Sunday.
###