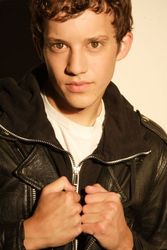 Los Angeles, CA (PRWEB) August 10, 2007
Habbo (http://www.habbo.com), one of the world's largest social networking sites, announced today that Jacob Zachar, star of the new ABC Family show, Greek, will stop by the online community for an interview with fans.
Hollywood's newest lovable geek will enter Habbo's virtual Theaterdome on Monday, August 13 at 3 p.m. (PDT)/6 p.m. (EDT). Fans are invited to hang out with Zachar, ask questions and learn about life on the set of the hit TV series.
For the opportunity to meet Zachar, log in to Habbo or join for free by going to http://www.habbo.com and clicking on the "Register Now" button. To hear the exclusive live discussion with famed Habbo DJs Whimsy and RubbeeRED, tune into Habbo's Internet Radio Stream, Habbo Radio (http://www.habbo.com/entertainment).
About Jacob Zachar
Raised in Chicago, Jacob Zachar's acting career began in the theater, with roles in several successful productions, including On Golden Pond, Big: The Musical, Les Miserable and Guys and Dolls. Since moving to Los Angeles last year, he has completed work on two films: Little Big Top (High Fly Films) and Drunkboat (Arclight Films), starring John Malkovich and John Goodman. In addition to acting, Zachar is the frontman for the Chicago metal band, Megaband.
About Habbo
Habbo is a richly colorful, multi-dimensional virtual meeting place and game environment for teens. Users join by creating a fully-customized online character called a Habbo. From there, they can explore many public hang outs, play a variety of games, connect with friends, decorate their own hotel rooms, and have fun through creativity and self-expression. Currently there are Habbo communities in 29 countries on five continents. To date, more than 80 million Habbo characters have been created and 7.5 million unique users worldwide visit Habbo each month (source: Nielsen Netratings). http://www.habbo.com
About Sulake
Sulake is an interactive entertainment company focused on online communities, casual multiplayer games and social media. Sulake's main product is Habbo, a new type of youth brand, which is based on one of the world's fastest growing online communities for teenagers. Sulake has headquarters in Finland and local offices in 18 countries. Currently the company has more than 330 employees worldwide.
http://www.sulake.com
Sulake and Habbo press images: http://www.sulake.com/press/image_bank?navi=4.2
Contact Information
Erik Fairleigh
Edelman Public Relations
323-202-1026
Susan Mills
Edelman Public Relations
323-202-1050
###