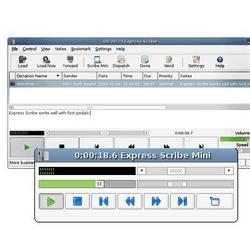 We are thrilled to offer one of the best free audio players for typists on the market for the Linux platform
Canberra, Australia (PRWEB) August 11, 2007
NCH Swift Sound Software, specialists in audio, video and business applications, announce the release of Express Scribe for Linux.
"We are thrilled to offer one of the best free audio players for typists on the market for the Linux platform," said Stephanie Lee, marketing manager for the Australian company. "Although we have worked hard over the last few years to make our software compatible with Linux operating systems through the WINE emulator we recognised the need to start porting our applications for Linux users. One of our biggest challenges was to make the installation as generic as possible to suit all the main flavours of Linux."
Express Scribe is an audio player specifically designed for the playback of dictation or other audio recordings. It features variable speed playback, automatically checks and downloads files from FTP servers, email or a local area network and supports a large range of audio file formats including wav, mp3, wma, Olympus, Sony, Phillips and Sanyo digital formats as well and many more. Audio from video files can also be loaded for subtitle work.
"Of course the latest version of Express Scribe for Linux is free," said Stephanie. "It has all the features of the Windows version including the Scribe Mini which allows typists to reduce the size of the application to roughly an inch (2.5 cm) and it can be controlled by foot pedals and hot keys."
NCH Swift Sound is a leader in business audio technology. Since 1993 the software development team has released more than 40 Windows, Mac, Linux, Palm and Pocket PC applications which are now leaders in their classes and have been awarded for software excellence.
For more information see http://www.nch.com.au and http://www.nchsoftware.com.
###