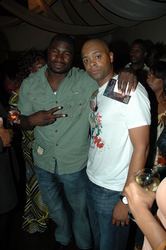 How Are You Rockin' Your Riejunio?
Atlanta, GA (PRWEB) August 14, 2007
Riejunio (http://www.riejunio.com), a fashion house in Atlanta, Georgia, premiered its premium denim/knitwear apparel and the G. Ivey Collection on July 11, 2007. Now, it's time to go shopping.
Riejunio, an upscale denim and knitwear outlet, which launched its line on July 11, 2007, proudly announces the opening of the Riejunio on-line store. The company's site is divided into sections featuring men's and women's wear; the company's signature tees; and the G. Ivey Collection, a collection of hand-painted, original art tees. In addition, the site includes the "Who's Wearing Riejunio?" celebrity portion, which currently highlights musician Michael Warren and Ovie Mughelli of the Atlanta Falcons. This part of the site will be updated as new celebrities are added.
In connection with the opening of the store, Riejunio announces its contest, "How Are You Rockin' Your Riejunio?" Interested contestants must make a Riejunio purchase and take interesting, unique photographs of how they live, work, or play in their Riejunio wear. The winner's photograph will be included in "Who's Wearing Riejunio?" and he or she will receive a pair of Riejunio jeans, valued at a minimum of $125. Second and third runners-up receive the Riejunio signature tee of their choice, valued at a minimum of $50. To enter the contest, e-mail photos to harie @ riejunio.com. The store is offering free shipping and handling through Labor Day on all purchases.
Riejunio Premium Apparel boasts unique designs with intricate, detailed stitching and top quality fabrics. From the unique styles of the women's bustle and swirl skirts, to the Riejunio Rock Star tee, Riejunio's designs are guaranteed to please every consumer of distinguished taste. Riejunio's products are manufactured in the United States, with the goal of creating manufacturing jobs for Americans. Harie Robinson, founder/designer for Riejunio, hopes to ultimately return manufacturing to his home state of Georgia. Buy American; buy Riejunio.
Just as Harie has set himself apart in merchandising, the Riejunio apparel line supports a multicultural movement for lovers of fashion who seek to separate themselves from the masses. Separate yourself by wearing Riejunio Premium Apparel. Be a mover and a shaker; be a part of something new, original, and fresh. The Riejunio multicultural movement will take your fashion senses to the next level. Visit the store to decide for yourself, and experience the renaissance of art and fashion: http://www.riejunio.com.
For additional information, contact:
Shirley Kennedy, Publicist
SJK Public Relations, LLC
http://www.sjkpublicrelations.com
(678) 557-2174
###