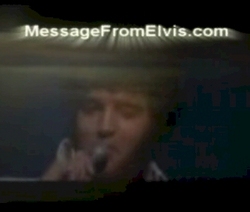 The album couldn't have come at a better moment. It will give courage and hearten his ever present fans
(PRWEB) August 16, 2007
Exactly 30 years after his tragic death, Elvis "returns," bringing a message for his fans. With the release of Return of the Legends, both Elvis and Louis Armstrong are brought back to life through the vocal stylings of Sierra Jim and Billy "The Channel" Sage.
While Elvis might have been on a celestial plane for the past few decades, he seems to have kept up with technology and has a new Web site. Swing over to http://www.MessageFromElvis.com to hear the whole story "direct" from the King.
The album features all original songs. One song, Livin' in Glory, is written from the viewpoint of Elvis reaching out to his fans:
"I'm livin' in Glory, but I'm still singin' for you
A little bit of music is good for the soul
I've been wantin' to say how much I love and miss all of you
And I wanna thank you for all the happy memories
I know you're wonderin' what it's like in Heaven
Well it's…" -- Livin' in Glory
"The album couldn't have come at a better moment. It will give courage and hearten his ever present fans," Elvis performer and producer Sierra Jim said.
Also available on http://www.MessageFromElvis.com is the new music video for the Livin' in Glory single.
Several of Elvis' well-known hits, along with oldies hits from a host of Elvis' contemporaries, have been re-orchestrated to reflect the time that Elvis has spent in the heavens:
"Yes, now I know you need to hear me
Now I know Eternal Love
Now I know she is always near me
Always and forever, my Earth Angel" -- Earth Angel
More Elvis hits are available at http://www.MessageFromElvis.com and a free download of the Livin' in Glory single awaits the first 10,000 lucky fans who visit the site.
Contact :
Sam Kneller
Paris, France
33 603 704 808
skneller @ bonjourlafrance.net
http://www.MessageFromElvis.com
###