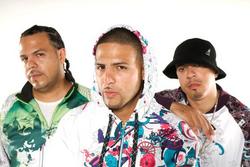 one of the most anticipated independent artists of the year
New York, NY (PRWEB) August 14, 2007
The 5th Annual Underground Music Awards took place Sunday, August 12 at the famous BB King's in New York City, and Brooklyn trio T-Weaponz walked away with the honor for Most Dynamic Group or Duo. Honored to sit among nominees such as Dilated Peoples, Shop Boyz, Jedi Mind Tricks and Kidz In The Hall, this award could not come at a better time for T-Weaponz, who will be releasing their highly-anticipated debut album "Just Begun..." on September 25, 2007.
T-Weaponz appeared on the popular music scene in 2005 with their debut single "Mira Mira," which featured Pitbull and Notch, and received more than 15,000 radio spins. Called "one of the most anticipated independent artists of the year" by AllHipHop.com, their current single "Dem Boyz" enjoyed 6 weeks on Billboard's Top Ten Hip Hop/R&B Single Sales Chart and 3 weeks in the Chart's Top Twenty.
Composed of brothers IzReal and Arkitek and their neighborhood friend Psalmz, the three Nuyorican MCs represent the past, present and future of Hip Hop, delivering "intelligent but not preachy rhymes over dope soundscapes" in English and Spanglish. "Ark is a flow master and Psalmz is a true poet," says Iz of his group mates. "I'm really blunt and to-the-point, so I balance them out. Together, we take whatever knowledge we have and make it relatable to everyone in the street."
This fall, after years of waiting in the wings, the trio is poised to blaze into center stage and claim its spot in the limelight with its highly anticipated, full-length debut "Just Begun...," which features production from Fingazz ("Lean Like a Cholo," Streetlight Music), Kemo, AsH and Hazardis (Garcia, Nore).
The Underground Music Awards:
Presented by Urban Threshold Enterprises, whose mission is to elevate Hip Hop back to its royal essence by fusing the old school with the new school and by tapping into the energy and vibe of today's Hip Hop generation, the Underground Music Awards honors the best in underground Hip Hop and R&B. Past winners include K Slay and Red Alert.
###