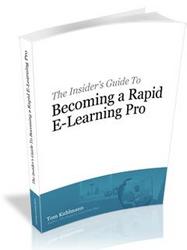 As a former customer and user of Articulate's software, I have great respect for Articulate
New York City, NY (PRWEB) August 14, 2007
Articulate, the market leader in rapid e-learning software today announced that Tom Kuhlmann has joined the company as vice president of community. In his new role, Tom is responsible for contributing to Articulate's thriving community of e-learning developers. His community site can be found at: http://www.articulate.com/community/
Also today, Kuhlmann introduced the Rapid E-Learning Blog, a subscription-based information service that provides e-learning developers with practical, real-world tips for e-learning success. Subscription is free and all subscribers receive the free 46-page eBook "The Insider's Guide to Becoming a Rapid E-Learning Pro." RSS or email-based subscription is available at http://www.articulate.com/rapid-elearning/
Kuhlmann has over 15 years of real-world experience in the training industry. He's personally developed hundreds of hours of e-learning and managed high-profile e-learning projects at Capital One, Washington Mutual, and Weyerhaeuser. He recently completed his Master's in Education Technology at Pepperdine University, where he researched how to cultivate communities of practice through the development of personal expertise.
"As a former customer and user of Articulate's software, I have great respect for Articulate," said Kuhlmann. "They build tools that are easy to use and help people do their jobs well. What drew me to the company was its passionate user-base and engaged community of practice. I am excited to contribute to our user community and help our customers be successful with e-learning."
About Articulate
Articulate is the market leader in rapid e-learning software. Articulate products are used by organizations worldwide to quickly create rich and interactive learning content and communication resources. The company's Rapid E-Learning Studio Professional combines three premier products, Articulate Presenter 5, Quizmaker 2 and Engage, to give learning professionals and subject-matter experts an easy-to-use toolset to create e-learning courses, presentations, quizzes, and surveys. Morgan Stanley, FedEx, Dell, Target, 3M, John Deere, and Harvard Business School are among the thousands of corporate, government, and academic organizations currently using Articulate products for rapid e-learning. Articulate is ranked the 15th fastest growing technology company in North America by Deloitte on their 2006 Technology Fast 500 Rising Star list.
###