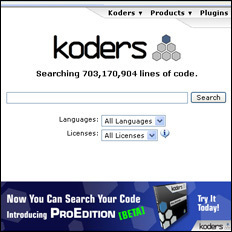 Our audience's suggestions are the driving force that motivate us to improve our solutions.
Santa Monica, CA (PRWEB) August 14, 2007
Koders.com now offers over 700 million lines of open source code aggregated from public repositories, corporate developer networks, and projects contributed by individual programmers. New additions to Koders.com include code hosted by Apple Computer, Google, Microsoft, Red Hat and Sun Microsystems. These corporate hosts join Apache, BerliOS, Debian, Novell Forge, OpenBSD, RubyForge, SourceForge.net, Tigris and other public code repositories indexed by Koders.com.
Koders also upgraded its core search technology and navigation to help software developers find more relevant and reusable code. In addition to optional programming language and license filters, search results on Koders.com are now automatically parsed so that users may more easily find interface, class and method definitions that address their immediate needs. "We are committed to continuously advancing the state-of-the-art in code search with support and ideas from the developer community and our customers," said Phil Haack, product manager for Koders.com. "Our audience's suggestions are the driving force that motivate us to improve our solutions."
Additional features Koders created based on end-user feedback include plugins for Visual Studio and Eclipse as well as code search widgets which can search individual open source projects. Among the thousands of projects that can be searched at Koders.com, developers will find code from the Linux kernel, Microsoft's Visual Studio SDK, Rotor, Sony's PlayStation® Portable Development Toolkit and much more.
The Koders.com website is utilized by millions of software developers from around the globe who are seeking help and inspiration for their own projects. Registered users of Koders.com include students, professionals, open source contributors, and programmers at companies such as Accenture, Adobe, Capgemini, Dow Jones, EDS, Halliburton, Hewlett-Packard, Samsung, Siemens, Verizon, Vodafone and Wipro.
About Koders Inc.
Koders is the leader in code search for enterprises, communities and software developers. Koders solutions allow programmers to quickly find and leverage existing source code assets to bring new software applications to market faster, with fewer defects, and at substantial cost savings. The Koders.com website is a free resource for searching open source code. The Koders Enterprise Edition and the Koders Pro Edition both search private source code, and have been adopted by development teams in a broad range of settings, from small ISVs to Fortune 500 companies. Koders is a privately-held company headquartered in Santa Monica, California. For more information, visit http://www.koders.com.
Note to Editors: Koders, Koders.com are trademarks or registered trademarks of Koders Inc. All other trademarks are the properties of their respective owners.
# # #