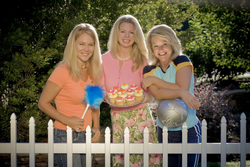 shuffling kids to school and soccer, planning birthday parties, keeping immaculate houses and cooking perfectly balanced meals may be the American Dream, but the reality can be a overwhelming nightmare.
Greenville, SC (PRWEB) August 15, 2007
According to the Population Reference Bureau (PRB), there are now more that 26 million women living in the suburbs and raising their families. While these mothers may aspire to the June Cleaver lifestyle of their own childhoods, the daily reality never quite matches the fabricated domestic bliss of television.
One night over a bottle of wine, entrepreneurs and suburban moms, Christa Sorauf, Lesley Johnson and Stacey Massengale realized that life behind the white picket fence can often be frustrating, monotonous and lonely for many women and it was time to debunk the myth of the "Satisfied Suburban Super Mom" forever.
Before they knew it, their product line Suburban Myths was born. The trio launched the line with greeting cards featuring a white picket fence, common suburban "myths" and a punch line dispelling them. For example:
Suburban Myth #1
Domestic bliss can be achieved!
With the right pharmaceuticals.
Suburban Myth #4
Thank goodness I got my college degree!
So I could become my child's personal assistant.
Suburban Myth #7
Scrapbooking helps me preserve precious family memories!
While eluding my husband and kids for hours on end.
The Suburban Myths greeting card line is licensed through American Greetings, http://www.americangreetings.com, and launched in 1,400 Target stores in June. The cards will also be available in 3,000 Wal-Mart stores in September 2007.
Sorauf says, "It's funny, one minute you're drinking a bottle of Merlot with your girlfriends and the next minute your late-night rantings are on thousands of greeting card aisles in America."
Suburban Myths grew from 24 cards into a major brand as the trio acquired evidence from women around the country that, "shuffling kids to school and soccer, planning birthday parties, keeping immaculate houses and cooking perfectly balanced meals may be the American Dream, but the reality can be a overwhelming nightmare."
The entrepreneurs believe the Suburban Myths product line has become so popular because it's based on the universal experiences that millions of women can relate to from play dates and carpooling to housework and book club.
"We conducted in-depth research into the modern definition of 'funny,' and the findings revealed that a majority of women prefer to laugh at material that is more relatable, especially when it's based on everyday situations, and that's exactly what Suburban Myths represents," said Michael Brown, Vice President, Licensing, American Greetings. "Our new cards featuring Suburban Myths are great examples of our all-new collection of funny cards that find humor in the real-life shared experiences women encounter."
The company has also partnered with Branding, Inc., http://www.brandinginc.net, of Los Angeles to license Suburban Myths as a consumer brand. Additionally, Sorauf is currently writing a Suburban Myths book potentially slated for publication in 2008.
Sorauf is married and the mother of a seven-year old boy. Massengale is married and the mother of twelve-year old twins, a boy and a girl. Johnson is the mother of eight-year old and ten-year old daughters.
About Connexxions, Inc.
Headquartered in Greenville, South Carolina, Connexxions Inc., is an intellectual property development firm. Founded in 2005, the firm has brought to market four brands now sold nationwide including 52 Card Pick Up®, Connexxions™, Suburban Myths™ and Common Grounds™. For more information about Connexxions, please visit http://www.makeconnexxions.com.
About American Greetings Corporation
American Greetings Corporation (NYSE: AM) is one of the world's largest
manufacturers of social expressions products and greeting cards. Its
product lines include gift wrap, party goods, stationery, calendars,
ornaments and electronic greetings. Headquartered in Cleveland, Ohio,
American Greetings generates annual net sales of approximately $1.7
billion. For more information on the company, visit
http://corporate.americangreetings.com.
For more information, product samples, media kits or to set up an interview with the creators of Suburban Myths, please contact:
Christa Sorauf, Creative Director
Connexxions, Inc.
Toll-Free 866.527.4258
christas(at)makeconnexxions.com
http://www.makeconnexxions.com
###