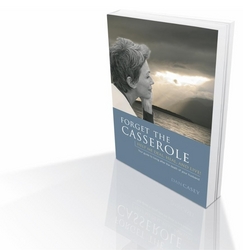 Forget the Casserole--Help Me Deal, Heal and Live: Your Guide to Living After the Death of Your Husband
Troy, MI (PRWEB) August 15, 2007
Unfortunately widows receive many casseroles. Although it's a nice thought, they would probably rather have help then receive yet another casserole. As one woman said as she advised her well-meaning loved ones, "Forget the casserole, just help me deal with everything!"
What many widowed women don't expect are the financial hardships ahead of them. In 2000, 17 percent of widowed women age 65 or older received incomes less than the federal poverty line, compared with just 4 percent of married women (Social Security Administration 2002).
"Forget the Casserole--Help Me Deal, Heal and Live: Your Guide to Living After the Death of Your Husband" is a new book written by Dan Casey, a Michigan independent financial advisor who specializes in the specific needs of investors over the age of 55. The book helps widows deal with the death of their husbands, begin the healing process, and implement a personal plan for protecting their quality of life. It also offers checklists to help women get organized, along with recommended strategies to identify and prioritize lifestyle and financial decisions.
Casey tells the story of two fictional women whose experiences, problems, emotions and successes are drawn from the real lives of women Casey has helped. Each woman had lost her husband, but both had very different journeys afterward. One didn't have a plan in place to help her deal with all the decisions to be made, and the other used The Vision Confidence Program™ created by Casey to help her get through her tough time.
Casey's book and program helped the women create a "Dealing Team", a group of relatives and friends she delegated tasks to. Together they set short-term goals and managed the details of the issues she faced. In the end, she worked out a plan for achieving her long-term personal and financial goals.
"Widowhood is something many women do not plan for, leaving them to make major decisions in what many describe as 'the fog'. Funeral arrangements, gathering necessary paperwork, legal decisions and much more comes in like a flood, often leaving many women without a life raft," said Casey. "This can be overwhelming and extremely difficult as they cope with the loss of the most important person in their life."
"Forget the Casserole--Help Me Deal, Heal and Live: Your Guide to Living After the Death of Your Husband" can be purchased at http://www.visionconfidence.com for $14.95.
###