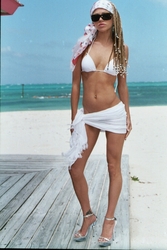 Las Vegas, NV (PRWEB) August 15, 2007
For an evening of fashion, 21 Magazine presents "Fashions on Fire!" Save this date: Wednesday, August 29th, 2007 located at a brand new venue on Las Vegas Blvd. in Las Vegas. This event will consist of 2 fashion shows, top international runway models, designers from around the world, music from the hot female band "Vyxen", Toni Braxton's all female dance team, celebrity guests, top djs, red carpet arrivals and much much more.
21 Magazine and many Las Vegas Fashion Week press will be on hand to cover this wonderful fashion show event. This fashion industry event will be by invite (RSVP) only.
Please contact "Cassandra Holmes" at Cassandra @ 21magazine.com or 702-228-7022 for more details.
Sponsorships for this event start @ $2500 and up. Please contact Dan Hall at danhall @ 21magazine.com for sponsorship details.
###