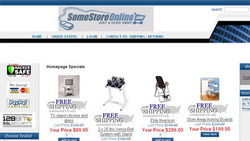 After a successful first year, we are happy to say thank you to our customers and stay on top of our business by offering low priced, quality merchandise as well as free shipping on most of our products
Noblesville, IN (PRWEB) August 15, 2007
Fitness may be on the minds of many, but along with the desire to shed a few pounds comes the reality of a hefty price tag for that exercise equipment that looks so appealing. Somestoreonline.com simplifies the search and purchase of fitness machines for all by offering discount exercise equipment from Stamina Products, Inc. Even easier on your mind and your wallet, you can get free shipping on most products offered on their website.
The market for home gym exercise equipment has grown, so keeping up with the demand is challenging. Somestoreonline.com makes it look easy by selling quality exercise equipment from a reputable brand. A top seller on the website, Stamina Products, Inc. has the equipment everyone wants for prices that are lower than list price. Find popular Pilates machines, bikes, rowers, steppers and more for prices that conveniently work into many household budgets.
"Knowing that our customers are looking for discount exercise equipment, we are proud to offer a long lasting, quality product like the Stamina product line. Being able to bring this name brand to our customers at competitive prices is what drives our business and our aim for excellent customer service," says Brian Mclaughlin, president of Somestoreonline.com.
Making discount exercise equipment available is just the beginning when it comes to providing high quality products and services to customers at Somestoreonline.com. Most products in the online store qualify for free shipping, alleviating an added cost that sometimes turns customers away. The effort made to meet customer's needs, whether for home gym exercise equipment or furniture, is a high priority and is recognized by site visitors who have become loyal customers.
"After a successful first year, we are happy to say thank you to our customers and stay on top of our business by offering low priced, quality merchandise as well as free shipping on most of our products," says Mclaughlin.
An easy to navigate website featuring secure shopping for peace of mind and clearly marked categories for quick and easy shopping has propelled Somestoreonline.com to the forefront of online shopping. For more information about the company and the products they offer, please visit Somestoreonline.com.
About Somestoreonline.com:
Somestoreonline.com offers a wide range of products available at below list prices, such as Stamina fitness equipment, Boraam Furniture and many more. Offering low prices and free shipping on most items, their easy to navigate website allows site visitors to easily find the products they are looking for and purchase them securely.
###