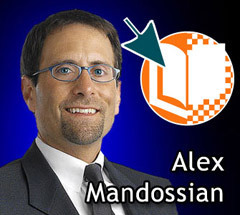 On the Internet, content is king, and repurposing is the key
Novato, CA (PRWEB) August 16, 2007
Alex Mandossian, one of the top-ten Internet direct marketers in America, has just posted part three of a series of free articles on his website, where he reveals four easy ways online for authors to boost sales through the art of repurposing. The article, Embracing Online Marketing: 4 Ways to Repurpose Content (Part 3), can be found at http://www.AlexMandossian.com.
Repurposing is turning one message into an unlimited number of messages that appeal to different markets, thus accelerating profits.
"On the Internet, content is king, and repurposing is the key," Mandossian says. "Internet users are online searching for information about topics that interest them. They love new content, and good information can lead them to your message and your book."
In this article, Alex Mandossian discusses four ways to repurpose information online audiences, including articles, blogs, eZines and websites. He explains how and where to start the online content process, even if authors have no technology background, and he gives hints on how to come up with ideas for online content.
Upcoming articles will continue to address others ways to repurpose materials, as well tips for authors to harness technology and different target markets. Readers will learn:

How authors can start the process, even if they don't have a book yet.
Simple ways to flow from one repurposed package to another.
Many other quick and easy ways to repurpose content.
Why repurposing is so profitable (and how you can do to make the most money while taking the least amount of time)
How one author increased the price of his book by 500% and turned it into a best seller (and how you can do it too).
Why customers want (and will buy) repurposed content in multiple forms. (In fact, if you don't offer your content in multiple ways, you're leaving money on the table and doing a disservice to your customers)
Why you have a responsibility to get your message out into the world in as many forms as possible.
To access the complete article series, visit http://www.AlexMandossian.com.
Alex Mandossian has consulted Dale Carnegie Training, NYU, Agora Publishing, Mutuals.com, Pinnacle Care, Strategic Coach, Trim Spa as well as thought leaders such as Jack Canfield, Vic Conant, Mark Victor Hansen, Les Brown and many others. He is the CEO and Founder of Heritage House Publishing, Inc.
More information can be found at http://www.AlexMandossian.com , and his Virtual Book Tour Secrets can be found at http://www.VirtualBookTourSecrets.com.
###